The Expendables fought its way to the top of the UK box office over the Aug 20-22 weekend, deposing the magnificent Toy Story 3 in the process.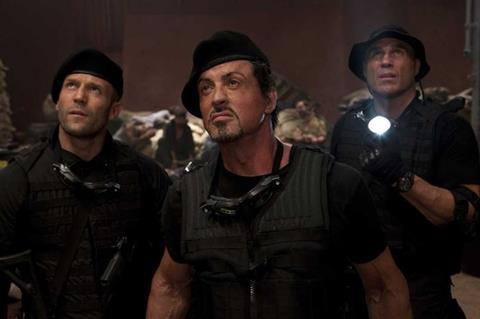 Lionsgate's action-adventure took $6m (£3.9m) from 453 screens at a per-print average of $13,287 (£8,633). While the opening is Lionsgate UK's best ever, 46% of the total came from three days of previews on 399 screens.
The Expendables denied Toy Story 3 a fifth consecutive week at number one, a feat managed only by Avatar since The Lord Of The Rings: The Return Of The King in January 2004.
Sony's Salt was the second-best performer of the four new entries in the top five, taking $3.4m (£2.2m) from 346 screens at an average of $9,641 (£6,262). Salt also benefited from previews totalling $916,132 (£594,985) from 346 screens.
Toy Story 3 didn't lose much ground. Disney's animated film only slipped 34% from its fourth-week performance, recording a take of $3.2m (£2.1m) from 557 screens. The second highest-grossing film of the year played on only 2% fewer screens than last week and should continue to add healthy returns to its $94.7m (£61.7m) over the coming bank-holiday weekend.
Entertainment's Piranha 3-D grossed $2.3m (£1.5m) from 352 on its debut weekend, while Fox's Marmaduke opened in fifth place on the UK chart, taking $1.8m (£1.2m) ($719,432/ £467, 576 from previews) from 377 screens.
The longest running of the top 15 films, Warner Bros.' Inception made $1.7m (£1.1m) from 419 screens in its sixth week.
The coming bank-holiday weekend sees five saturation releases: Sony's Grown Ups, Fox's Avatar: Director's Cut and Diary Of A Wimpy Kid, Universal's Scott Pilgrim Vs The World and Warner Bros.' Going The Distance. Momentum's The Girl Who Played With Fire, the second instalment in the Millennium trilogy, gets a wide release. Five independents open including Kim Chapiron's drama Dog Pound.
The weekend should be interesting to watch, to see how much of a draw the additional 8 minutes of Cameron's box office behemoth proves for the Avatar junkies, and whether Universal's 'all-the-right ingredients' Scott Pilgrim fares any better in the UK than it did in US.