SEPTEMBER 26 UPDATE: Antoine Fuqua scored a career high $34.7m debut as his western reboot starring frequent collaborator Denzel Washington and Chris Pratt opened top.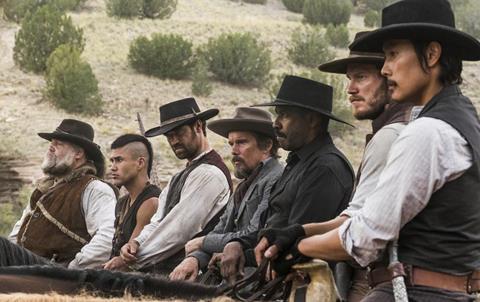 The film, a remake of the 1960 western of the same name inspired by Akira Kurosawa's The Seven Samurai, hails from Columbia Pictures and MGM and recently debuted at the Toronto International Film Festival, where it opened the event.
The Magnificent Seven earned roughly $2.9m from 372 Imax locations.
Warner Bros animation Storks arrived at number two on $21.3m, which like the number one film was a little behind tracking estimates.
Last weekend's champion Sully starring Tom Hanks dropped a modest 37.5% and two places to number three on $135m for $92.1m.
Lionsgate's Blair Witch fell 57.7% and four places to number six on just under $4.1m for $162m after two sessions.
Disney opened recent Toronto premiere Queen Of Katwe at number 22 on $304,933 from 52 venues ahead of wide expansion next weekend.
It drew a 54%-46% female-male crowd as the 50+ demographic took the lion's share on 29%, followed by the 26-34 group on 27% and the 35-49 group accounting for 20%.
Overall the top 12 combined for $94.9m, up 26.7% from last weekend and down 25.7% on same period last year when Hotel Transylvania 2 opened o $48.5m.
This week's wide releases are: Lionsgate's oilrig disaster story Deepwater Horizon starring Mark Wahlberg; Fox's fantasy Miss Peregrine's Home For Peculiar Children with Eva Green; and Relativity Studio's comedy Masterminds.
Confirmed top 10 North America September 23-25, 2016
Film (Dist) / Conf wkd gross / Conf total to date
1 (-) The Magnificent Seven (Columbia) Sony Pictures Releasing International/ MGM $34.7m –
2 (-) Storks (Warner Bros) Warner Bros Pictures Animation $21.3m –
3 (1) Sully (Warner Bros) Warner Bros Pictures International $13.5m $92.1m
4 (3) Bridget Jones's Baby (Universal) Universal Pictures International $4.7m $16.6m
5 (4) Snowden (Open Road) $4.056m $15.1m
6 (2) Blair Witch (Lionsgate) Lionsgate International $4.054m $162m
7 (5) Don't Breathe (Screen Gems) $3.8m $81.1m
8 (7) Suicide Squad (Warner Bros) Warner Bros Pictures International $3.1m $318.1m
9 (6) When The Bough Breaks (Screen Gems) Sony Pictures Releasing International $2.5m $26.6m
10 (9) Kubo And The Two Strings (Focus Features) Universal Pictures International $1.1m $45.9m