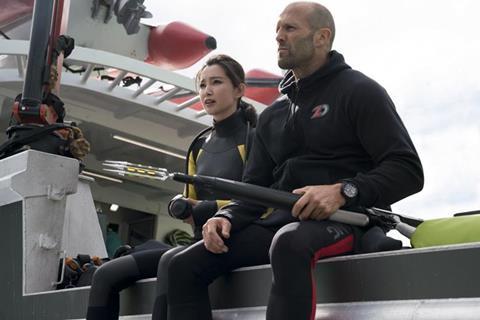 AUGUST 20 UPDATE: The Meg crossed $300m worldwide and stayed atop the international and global ranks as an estimated $68.9m from 55 territories propelled the running total to $232.2m and $316m worldwide.
WARNER BROS PICTURES INTERNATIONAL
UPDATE: The giant shark thriller added $30.7m in China via co-financier Gravity Pictures to rank second and reach $117.5m. It held on to number one in 20 holdover markets led by Mexico on $3.7m for $13.6m, Russia on $2.3m for $10m, and Brazil on $1.5m for $4.5m. It ranks third in the UK after adding $2.7m for $11m.
Ranking number one in nine of its 13 new territories, The Meg arrived in South Korea on $3.2m, and Australia on $2.6m including previews for number one.
In other second weekend results the tentpole starring Li Bingbing and Jason Statham added $1.4m in Indonesia for number one and a $5.1m running total, $1.4m in Spain for number two and $6m, $1.2m in Malaysia for number two and $4.3m, and $1.1m in Germany for number three and $3.6m. The Taiwan and the UAE have generated $3.64m and $3.59m, respectively.
Crazy Rich Asians opened in six smaller for $652,000, of which $213,000 came from both Holland and the UAE. The rom-com is set to open in Australia on August 30, and the UK on September 14.
Crime caper Ocean's 8 grossed $2.2m from 39 markets for $149.1m and $287.8m worldwide. Sandra Bullock and her crew added $1.5m in the second session in Japan for $9m. The UK remains the top market on $14.7m, followed by Australia on $13.6m and South Korea on $10.8m.
Gintama Live Action 2 launched at number one in Japan on $7.3m, some 13% ahead of the original. The 'Gintama2" Film Partners Production is led by Warner Bros. Pictures Japan.
ASIA UPDATE
Chinese comedy The Island grossed $38.7m for a $162.8m international running total, as last weekend's champion iPartment fell away dramatically following reports of controversial pre-release ticket sales.
Europe Raiders arrived on $19.5m, Wanda's Go Brother! $17.7m, Oolong Courtyard: Kung Fu School $14.8m, and Hello Mr. Billionaire $6.1m for $359.5m.
PARAMOUNT PICTURES INTERNATIONAL
UPDATE: Mission: Impossible – Fallout surged past $300m in the international arena thanks to a $20.8m haul from 61 markets that boosted the tally to $320.9m.
Performing 17% ahead of the Mission: Impossible – Rogue Nation for the same group of markets, the Tom Cruise action thriller added $2.8m in France for number one and a $19.1m running total after three weekends, and $2.8m in Japan for number two and $30.8m after three.
A $1.6m UK haul in the fourth session ranked sixth for $26.1m, and $1.5m in Germany in the third weekend secured number two and a $10.3m tally. Fallout added $1.4m in Australia for number two on $11m after three, and $1m in South Korea for number seven on $48.6m after four.
The tentpole stands at $5.2m after three in the Netherlands, $10.8m in Brazil after four, and $13.1m in Taiwan after four.
SONY PICTURES RELEASING INTERNATIONAL
UPDATE: The Equalizer 2 expanded into 25 new markets, 13 of which delivered number one results, boosting the overall running total by $17.5m from 41 for $29m.
The UK led the pack on $2.6m including previews to rank fourth, followed by France on $2.3m including previews for number two, Germany on $2.1m including previews for number one, Indonesia on $1.6m including previews for number one, Mexico on $1.4m including previews for number two, and Brazil on $1.2m including previews for number two,
In China, Hotel Transylvania 3: Summer Vacation scored $16.9m for the second highest debut by a Hollywood animated film this year, and matched the lifetime total of Hotel Transylvania 2 in three days. International markets generated $28.3m from 60 markets for $272.1m, and the worldwide tally stands at $426m. Mexico is the lead market on $26.2m, Brazil $18.7m, Russia $18.3m, and the UK $18.1m.
Horror thriller El Pacto from up-and-coming Spanish filmmaker David Vivtori debuted in Spain this weekend on $525,000.
UNIVERSAL PICTURES INTERNATIONAL
UPDATE: Mamma Mia! Here We Go Again crossed $200m internationally on Saturday and has breached the $300m global threshold as $15.6m and $19m weekend hauls boosted the Abba-inspired romantic musical sequel to $208.3m and $319.4m, respectively.
In the UK $2.8m boosted the running total to $70.9m after five table-topping weekends, although the film finally relinquished its crown/ the tentpole has become the second highest grossing film of 2018 and Universal's third highest grossing film of all time.
Mexico was the top new market on $989,000 for number three, followed by Russia at $898,000 for number two, central America on $366,000 for number two, and Colombia on $113,000 for number two.
South Korea delivered top holdover business on $2.9m for number four and $12.3m after two weekends, while in fifth sessions, Germany produced $1.1m for $16.2m, and Australia $730,000 for $15.2m.
Jurassic World: Fallen Kingdom added $2.9m for $878.6m to rank as the 11th highest grossing international film of all time, and stands at $1.294bn worldwide.
The First Purge grossed $1.6m for $61.6m, and Skyscraper $1.1m for $133.3m from Universal markets excluding China, where the Dwayne Johnson action tentpole stood at $97.1m towards the end of last week.
Spike Lee's BlacKkKlansman is in the early stages and added $1.5m for $2.2m and $25.7 worldwide. It opened in Australia on $839,000 at number three, New Zealand on $107,000 at number five, and the Middle East on $28,000 at number 12.
WALT DISNEY STUDIOS MOTION PICTURES INTERNATIONAL
UPDATE: Incredibles 2 added $9.3m from 34 territories for $527.2m and $1.121bn worldwide. The top market remains the UK on $63.4m, then China on $53.7m, France on $37.7m, Mexico on $37.2m, and Brazil on $37m, while Australia has generated an estimated $33.5m, and Japan $30.4m. The family smash now ranks as the highest Pixar/Disney Animation release of all time in Poland on $6.5m.
In its early days, family release Christopher Robin brought in $8.3m from 34 for $20.1m and $86.9m worldwide. Mexico has grossed $4.1m so far, Russia $3.6m, and the UK $3m rising to $3.3m including previews for an unconfirmed number one result. In Germany the Winnie The Pooh-inspired tale starring Ewan McGregor arrived on $800,000 rising to $900,000 with previews, while Brazil generated $400,000
Ant-Man And The Wasp grossed $5.2m from 36 for $257.5m and $465.9m worldwide. It opened top in Italy on $2.7m with previews. South Korea has delivered $42.4m and the UK $17.5m.
FOX INTERNATIONAL
UPDATE: YA adaptation The Darkest Minds grossed $4.8m from 54 markets for $18.4m, led by a $1m hold in France that elevated the tally to $3.3m after two sessions. Indonesia is the top new market on $674,000 for number three.
Argentinian serial killer thriller El Angel added $996,445 from two territories for a $3m running total. In its second session in Argentina, where it held on to number one, it added $976,574 for $2.9m.
LIONSGATE INTERNATIONAL
Action comedy The Spy Who Dumped Me starring Mila Kunis and Kate McKinnon grossed $3.5m from 61 markets for $12.9m. Australia is the top market on $2.1m after two weekends, followed by the Middle East on $1.9m after three. This week it opens in the UK, South Korea, Mexico, Brazil and Sweden.
STX INTERNATIONAL
Mark Wahlberg thriller Mile 22 opened in six territories this weekend for $538,000 led by Greece on $107,000 and Israel on $105,000.