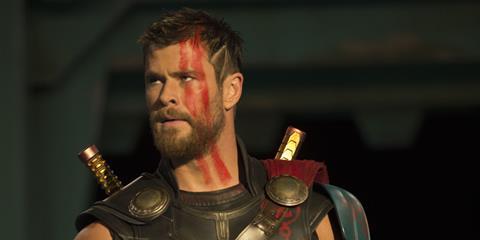 UPDATED OCTOBER 27: Marvel Studios tentpole Thor: Ragnarok has climbed to $28m from the first three days of international release in 28 markets.
Leading the way after three days is the UK on $6.7m, followed by South Korea and France on $3.8m and $3m after two days.
The god of thunder delivered the biggest October opening day in history in Australia on $2m including previews. Brazil produced the same milestone on $1.6m. The Philippines has generated $1.2m, Italy $1.1m and Malaysia $1m.
Friday brings debuts in Spain, Sweden, Norway, South Africa, Turkey, Vietnam and Iceland.
OCOTBER 26 REPORT: Early figures from Disney reveal Marvel Studios' Thor: Ragnarok has amassed $12.8m from its first two days of international release.
The god of thunder's latest outing through Walt Disney Studios Motion Pictures International has generated $4.8m from its first two days in the UK and has been active for one day in its other markets.
Ranking number one everywhere except Italy, Thor: Ragnarok has grossed $2.3m in South Korea, $1.9m in France, $1.2m in Taiwan, $900,000 in Indonesia, $700,000 in Philippines, and $600,00 in Italy.
The tentpole recorded the biggest October opening day in South Korea and Taiwan, and scored the sixth biggest industry opening day in Indonesia.
Disney executives said the film is running slightly ahead of Doctor Strange from the same bucket of markets.
Thor: Ragnarok will continue to roll out this weekend and will be active in around 52% of the international marketplace by Sunday.
It opens on Thursday in Australia and Brazil along with Croatia, Czech Republic, Denmark, Netherlands, Portugal, Slovenia, Hong Kong, Malaysia, New Zealand, Singapore, Argentina, Panama, Uruguay, Paraguay, Chile and Colombia.