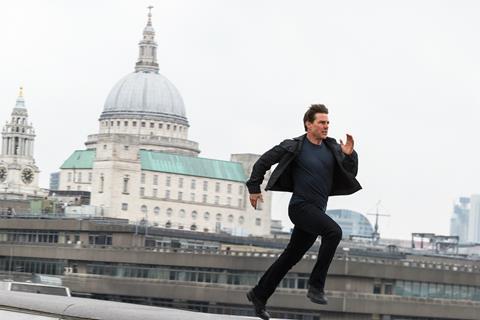 UPDATE: Tom Cruise is Hollywood's box office king once more as Mission: Impossible – Fallout ruled global box office for the weekend on a confirmed $155.8m, grossing $94.6m in its international launch in 36 markets to leave a trail of studio, star and franchise opening weekend records in its wake.
Chinese comedy Hello Mr. Billionaire – inspired by the Richard Pryor comedy Brewster's Millions – was top of the international box office chart courtesy of a $129.5m launch, while Incredibles 2 is expected to cross $1bn worldwide on Monday.
Skyscraper soared past $250m worldwide including China, and Sony's Hotel Transylvania 3: Summer Vacation approaches $300m worldwide.
CHINA UPDATE
Chinese comedy Hello Mr. Billionaire ruled international box office on a $129.5m launch. The film centres on a minor league football player who is told he will inherit a vast sum of money if he can spend millions in 30 days, without telling a soul. Hello Mr. Billionaire is inspired by the 1985 Richard Pryor comedy Brewster's Millions. Universal helped develop the screenplay and licensed the property to the Chinese producers, who switched the setting from baseball to football.
Fantasy mystery Detective Dee: The Four Heavenly Kings opened on $42.9m. Smash Dying To Survive added $4.7m for $448.3m.
PARAMOUNT PICTURES INTERNATIONAL
Mission: Impossible – Fallout delivered the highest launch in the six-film franchise based on the same markets in the previous five instalments, opening 23% ahead of the debut of Mission: Impossible –Rogue Nation.
Ethan Hunt opened at number one in 29 markets, claimed franchise-best opening weekends in 31, and secured record Cruise debuts in 18. IMAX accounted for $5m from 276 locations and 22 markets reported franchise-best debuts on the large-screen format.
South Korea led the way on an extraordinary $24.9m and 67% market share, securing new marks in the territory for Cruise and the franchise. Next came the UK with a $9.5m number two launch (climbing to number one including previews), then India on $8.2m for a new suite of opening weekend records for Cruise, the franchise, and Paramount.
Indonesia generated $5.8m for 90% market share for the same set of records as India, Taiwan $5.4m for Cruise and franchise records, and Mexico $4.9m and Russia $3.8m for new franchise marks. Brazil produced $4m for Cruise and franchise records, while a $3m launch in the UAE, which has been delivering mighty results of late, was good enough for Paramount's biggest opening weekend of all time, as well as new Cruise and franchise records. The Middle East region overall delivered $6.1m.
Mission: Impossible – Fallout set new Cruise and franchise marks in Hong Kong on $2.8m, Thailand on $2.1m, Philippines on $2.3m, Vietnam on $1.2m, and a franchise-best debut in Malaysia on $2.6m. It arrived in Singapore on $1.9m, Spain $1.8m, Colombia $946,000 for a franchise record, and Argentina on $945,000 and the Ukraine on $641,000 for Cruise and franchise records.
This week the action thriller arrives in Australia, Germany, France, and Japan, followed by Italy on August 29, and China on August 31.
SONY PICTURES RELEASING INTERNATIONAL
Hotel Transylvania 3: Summer Vacation used a $31m international weekend to reach $165m, and $284.2m worldwide. The international tally is tracking some 27% ahead of the second instalment by the same stage. A $4.2m UK debut led the session, while France delivered a $4.1m number one debut.
Latin America accounts for $71.3m of the international gross, and Hotel Transylvania 3 grossed $2.5m for $14.7m in Brazil to overtake the lifetime tally of the second film. Mexico delivered $2.1m for $21.3m, while a $1.8m number one hold in Argentina boosted the tally to $9.9m after three weekends.
The Equalizer 2 starring Denzel Washington added $1.9m for an early $6.1m tally. Australia produced $1.4m for $4.2m after two. The bulk of the international roll-out kicks off in the second and third weeks of August, with debuts in the UK, Spain, France, Brazil, Germany, and Mexico.
UNIVERSAL PICTURES INTERNATIONAL
Mamma Mia! Here We Go Again stands on the cusp of $100m internationally after a $27.2m weekend haul from 46 territories boosted the running total to $97.4m, and $167.9m worldwide.
The musical sequel, which arrives this week in China and Brazil, dropped 38% internationally and arrived in France on $1.8m at number four, and opened in Poland on $1.3m at number one.
In its second weekend, the Abba-inspired film easily retained stop spot in the UK on $9.3m for $35.4m to track 19% ahead of the 2008 original by the same stage. A $2.9m number one hold in Australia elevated the running total there to $9.5m, while Germany produced $2.1m in the number two slot despite the ongoing heat wave for $8.2m. Spain generated $1.1m for number two placing and a $5.1m running total, and Abba heartland Sweden delivered $1.1m for and $5.3m. The Netherlands has produced $3.3m.
Dwayne Johnson tentpole Skyscraper added $10.9m from 76 for $111.3m, rising to $196.6m including an $85.34m running total in China via Legendary East. The worldwide tally including China stands at $255.8m. Mexico has amassed $9.1m after three weekends and France $4.3m after three.
Jurassic World: Fallen Kingdom brought in a further $11.8m from 69 territories as the international tally climbed to $840.2m and global reached $1.238bn. The family release continued to place well in Japan, adding $5.5m in the third session for $43.9m.
After eight weekends, the UK has delivered $54m, France $29.2m, and Germany $28.4m. Argentina has generated $10.7m after six weekends, and Australia $25.5m after the same amount of time.
The First Purge added $4.5m from 34 for $45.6m and $111.1m worldwide. The film ranks as the highest internationally in the franchise.
WALT DISNEY STUDIOS MOTION PICTURES INTERNATIONAL
Pixar's Incredibles 2 will cross the $1bn worldwide mark by Monday and stands at $996.6m, of which $423.7m comes from the international arena and $572.9m from North America.
A further $20m from 41 territories drove international business over the weekend. China remains the lead market on $53.4m, followed by the UK on $42.8m, Mexico on $37.1m, Brazil $32.8m, and Australia $32.6m. It opens this week in Japan and Spain.
Marvel Studios' Ant-Man And The Wasp brought in $11.5m from 50 territories for $211.1m and stands at $394.6m worldwide. It opened top in Germany on $2.5m rising to $2.8m including previews, and stands at $42.1m in South Korea, $14.5, in Mexico, and $13.3m in Australia. The superhero saga flies into the UK this week.
WARNER BROS PICTURES INTERNATIONAL
Teen Titans Go! To The Movies opened in eight smaller markets day-and-date with North America for a $1.1m debut. Argentina was the top market on $503,000 in a number five launch. The family film arrives in the UK this week.
Ocean's 8 added $2.7m from 57 markets for $132.4m, and $269.7m worldwide. The crime caper debuted top in Italy on $1.1m, and the UK remains the top market on $14.3m followed by Australia on $13.5m. Japan will be the final major release on August 10.
The comedy Tag grossed $1.4m from 38 for $19.3m. Australia leads the way on $2.61m, followed by Russia on $2.6m, and the UK on $1.9m.
Illang: The Wolf Brigade launched in South Korea at number two on $5.2m. The film is a Union Investment Partners and Warner Bros Pictures presentation of a Lewis Pictures production.
FOX INTERNATIONAL
Mas Sabe El Diablo Por Viejo from Fox International Productions opened in Mexico at number four on $1.2m.
STX INTERNATIONAL
Shailene Woodley and Sam Clafin survival at sea drama Adrift added $1m from 60 markets for a $17.3m running total.