It was a familiar story at the UK box office over the Aug 06 – 08 weekend as Disney's Toy Story 3 resolutely held on to the top slot.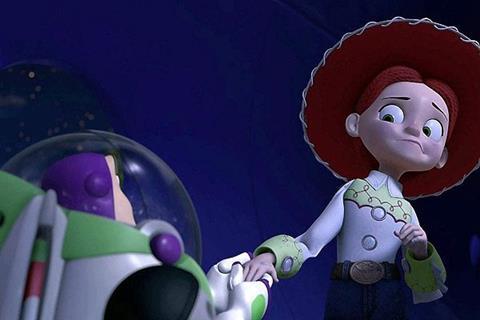 In its third week at number one in the UK, the Disney-Pixar comedy took $7.5m (£4.7m) from 555 screens at a screen average of $13,368 (£8,407). The film's cumulative gross now stands at $81.9m (£51.5m).
Year to date, of the six majors, Disney is now in second place at the UK box office behind Fox. Despite releasing four fewer films than the number one studio and 8 fewer than Paramount and Warner Bros., Disney's films have grossed $290.5m (£182.7m), equivalent to 16.99 % of the market share. The studio's strong UK run looks set to continue this week with the release of their adventure-fantasy The Sorcerer's Apprentice.
Fox's action-comedy Knight And Day debuted in second place, taking $3.8m (£2.4m) from 434 screens. The weekend take was Tom Cruise's best opening since Mission Impossible 3 in 2006, and co-star Cameron Diaz's best ever UK opening for a non-animated film.
There were also top-five debuts for Universal's Step Up 3 and Warner's Bros.' Cats And Dogs: Revenge Of Kitty Galore. Step Up 3 entered in fourth place in the UK chart, grossing $3.2m (£2m) from 400 screens, some $477, 000 (£300,000) less than Step Up 2: The Streets made on its opening weekend in 2008. The second instalment in the Cats And Dogs franchise clawed $2.5m (£1.6m) from 408 screens on its first weekend.
The UK box office traditionally performs less impressively in August than July as many families head abroad. And while last Sunday's good weather may in part account for a let up in the strong box-office performances of previous weeks, this trend markedly continued. While Jul 30 - Aug 01's top 5 films took a combined total of over $31.8m (£20m), last weekend's top 20 didn't come close to that mark. There were also low screen averages, with no film managing a per-print average above $13,500 (£8,500).
Alongside Disney's The Sorcerer's Apprentice, Paramount's The Last Airbender, Fox's Marmaduke, Metrodome's Foreign Language Oscar winner The Secret In Their Eyes and Artificial Eye's Le Refuge all hit cinemas this weekend.