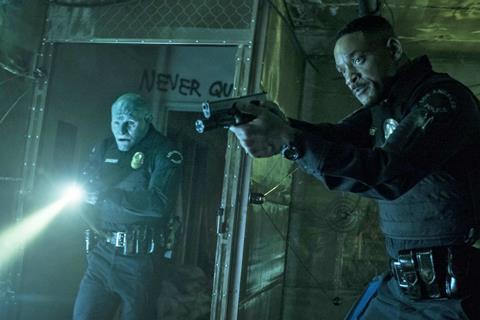 DECEMBER 29 UPDATE: Nielsen estimated on Thursday (December 28) that Netflix original Bright drew some 11million US viewers in its first three days – a number that loosely translates to a $98.2m theatrical opening weekend had the film launched in a traditional manner.
While it is a parlour game at best to calculate hypothetical box office based on the estimate – Netflix reportedly paid $90-100m for the package starring Will Smith and Joel Edgerton and outbid several studio rivals – a comparison does make for interesting reading.
It should also be kept in mind that the Nielsen number only takes into account viewers who watched Bright through their TV sets and does not include desktops or mobile devices, which means the actual number is likely to be significantly higher.
Based on the third quarter 2017 average national ticket price of $8.93 published by the National Association Of Theatre Owners (NATO) in October, Bright would have generated $98.2m to score the ninth highest Friday-Sunday North American opening weekend of 2017. It debuted on December 22 – a Friday.
It should be noted that it is far easier to view a film on Netflix than it is to attend a theatre, and those whom Nielsen says watched Bright would have already subscribed to Netflix's service. The monthly standard plan in the US costs $10.99.
Furthermore it cannot be known in which markets, circuits and formats Bright's potential theatre-goers would have bought a ticket and the cost in many instances would have been considerably more than the national average.
The status of Bright's talent also factors into the equation. Neither lead is an A-list star and so it is debatable whether the film would have generated 11million theatrical attendances on opening weekend. Smith lacks his old star power, while it could be said Edgerton is in his prime although his ability to open a tentpole remains untested.
The 11million estimate only refers to the US market and not the international arena, where Bright also debuted on December 22. More than 52m people pay for the service internationally, a little higher than the North America number.
Suicide Squad director David Ayer directed Smith and Edgerton as human and orc police officers in a Los Angeles where the two species coexist with elves. The supernatural thriller's broad subtext of racial discrimination drew largely poor reviews from the critics.
Nielsen said seven million or 57% of Bright's US viewers over the first three days came under the 18-49 demographic, and roughly 56% were male. Netflix does not issue viewership data and did not comment on the estimates.