Fox's The Voyage Of The Dawn Treader's $66.2m bounty from 10,159 screens in 58 territories was enough to end Harry Potter's three-week reign at the top of the international box office.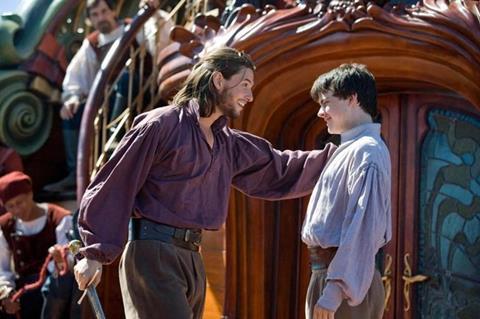 The third instalment in the Chronicles Of Narnia series now stands at $80.2m overall, to post this week's best week-on-week increase of 1,086%. That figure is skewed by the fact that this week saw its international roll out shift into full gear with openings in 50 new territories.
It still has some way to go though before it challenges the franchise's first and highest earner The Lion, The Witch And The Wardrobe, which took $453.3m back in 2005. That being said, it certainly has a solid enough base to at least match Prince Caspian's haul of $278m and can take heart from the fact that after two weeks, that film stood at $51.3m although it was only showing in roughly a third of Dawn Treader's total screens.
What might also factor in Dawn Treader's favour is the upcoming Christmas holidays which should give it a significant boost in gross, especially as it opens across the Nordic markets over the Christmas weekend.
Christmas should also help Harry Potter And The Deathly Hallows: Part 1's quest to become the highest grosser in the franchise. The Warner Bros. fantasy now stands at $527.4m after taking a further $31.7m from its 11,734 screens for only a 44% week-on-week drop. It's likely to surpass the lowest grosser in the series so far this week - currently Prisoner Of Azkaban's $546.1m take - as it opens in South Korea and Hong Kong tomorrow (Dec 16).
Disney's protracted roll-out for Tangled continued to pay dividends this week as it posted a second consecutive week-on-week increase after opening in ten more territories adding a further $22.3m, including a chart-topping debut in Germany ($6.3m from 598), to post an impressive $78.2m so far. The animated comedy's roll out slows down over Christmas, but expect it to come back strongly in the New Year starting with Jan 6 openings in Australia and Brazil.
Sony/GK Films' The Tourist had a strong debut on the international scene after grossing $7.4m from its 1,030 screens at an average of $7,172 to chart fifth. That resulted in GK Films' biggest-ever international launch, previously held by the $3.8m taken by Mel Gibson's comeback film Edge Of Darkness in January this year, especially impressive as the latter opened in slightly more screens (1,061).
The only other new entry in the top ten belonged to Eros International's No Problem. Anees Bazmee's comedy, around a diamond heist that goes wrong, charted eighth after taking $5.3m from its 16 territories.
Undoubtedly the week's most impressive performance belongs to Eyeworks' New Kids Turbo which posted this week's highest screen average at a whopping $21,993. The Dutch action-comedy, based on a TV series, achieved the second highest opening of the year in the Netherlands, behind Deathly Hallows' debut ($3.1m from 240), after amassing $2m (excluding. previews) from 89 screens, significantly fewer screens than Harry Potter.
Next week should prove to be an interesting week on the international scene with the release of Disney's long awaited TRON Legacy.