MARCH 21 UPDATE: The family hit added $68.4m from 49 territories in its sixth weekend for $392.3m and stands at $593.5m worldwide.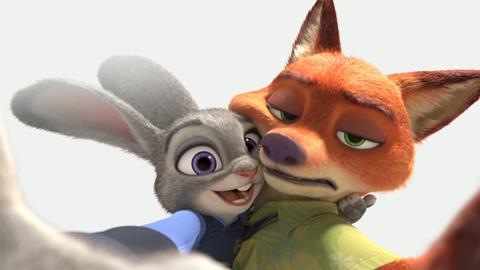 WALT DISNEY STUDIOS MOTION PICTURES INTERNATIONAL
UPDATED: Zootopia delivered $105.6m worldwide at the weekend including the $37.2m number one North American hold and opened in Australia at number one on $3.7m for the third biggest Disney Animation debut behind only Frozen and Tangled.
Brazil generated another number one opening on $2.5m that resulted in the second biggest Disney Animation debut there behind Frozen.
China has amassed $173.4m, France $25.4m, Russia $24.9m, Germany $19.2m, South Korea $18.1m, Mexico $15m, and Italy $12.1m, Spain $11.6m, and Argentina $7m.
FOX INTERNATIONAL
UPDATED: The Revenant grossed $34.9m for $300.6m from 51 markets and arrived in China on $31m in its first seven days. Approximately $2.3m of that China haul came from 278 Imax screens.
The film has amassed $481.7m worldwide and stands at $23.2m in France after four weekends.
Dreamworks Animation's Kung Fu Panda 3 opened in a further 63 markets and grossed $34.6m from 51 for $259.9m.
It ranks number one in 30 and arrived in Italy on $3.6m from 809 screens, Germany on $1.8m from 1,143, and Hong Kong on $1.4m from 97. The $1.3m Argentine debut in 324 delivered the biggest opening weekend for a Dreamworks Animation title.
The family film held on to number one in Mexico on $2.8m for $9.4m after two sessions and the UK in $2.5m for $10.1m after the same period of time.
Deadpool grossed $6.4m from 62 markets for $390.1m and after six sessions has generated $52.8m in the UK, $28.9m in Australia, $28.2m in France, and $23.4m in Germany. The superhero tale ranks as the fourth biggest Fox release in Brazil on $19.9m.
From FoxStar and Fox International Productions, Kapoor & Sons opened top in India on $5.4m from 1,500 and the UK on $269,709 from 70.
LIONSGATE INTERNATIONAL
UPDATED: The Divergent Series: Allegiant grossed $22.3m from 77 markets as the early haul climbed to $54m and $83m worldwide.
The third instalment in the YA franchise debuted at number two in Mexico on $2.5m and opened in Germany on $1.2m. The film grossed around $400,000 from 139 international Imax screens to push the running total to $1.4m.
Gods Of Egypt added $6.2m from 74 markets for $98.3m and has taken $32.6m in China after two weeks.
NU IMAGE
Gerard Butler in London Has Fallen enticed a further $10m out of international film-goers as the running total via Nu Image licensees climbed to $45m.
PARAMOUNT PICTURES INTERNATIONAL
UPDATED: 10 Cloverfield Lane grossed $5.1m from 11 markets for an early $7.3m. The paranoia thriller arrived in five new markets led by a number two $2.3m debut in the UK and a $1.2m bow in France.
It added $638,000 in Australia for $2.2m after the second weekend.
13 Hours has reached $11.7m and The Big Short $61.1m
SONY PICTURES RELEASING INTERNATIONAL
UPDATED: The Brothers Grimsby brought in $1.9m from 38 markets to surge to $16.8m including Village Roadshow markets. The comedy opened in Spain on $417,000 on 286 screens and stands at $6.9m in the UK after four sessions.
The Lady In The Van grossed $738,000 from 305 screens in its third weekend in Australia for $5.2m, and has generated $26.9m overall.
UNIVERSAL PICTURES INTENATIONAL
UPDATED: Hail Caesar! grossed $2m from 35 territories for $27.3m. The Russian-language animation Smeshariki 2 opened in Russia on $1.7m in 1,060 theatres and ranked number three, slightly below the debut of the 2011 original.
The Witch claimed $1.3m from 11 territories for an early $4.1m and opened top in Egypt on $108,000 from 13 venues in Universal's fourth biggest opening weekend. Australia generated $120,000 from six sites.
Room stands at $8.5m from 24 Universal territories and opened in its final Universal market of Germany on $183,000 from 90. The Danish Girl stands at $50.3m.
WARNER BROS PICTURES INTERNATIONAL
UPDATED: How To Be Single added $1.5m from 41 markets for $49.1m.
STUDIOCANAL UK
High-Rise opened on $641,991 according to estimates, rising to $789,043 including previews.
COVERT MEDIA
UPDATED: Dirty Grandpa has amassed $53.3m through territories originally licensed by what was known as QED International. The worldwide running total inclduing the US release through Lionsgate stands at $88.9m.