The European Film Market in Berlin offered a ray of hope for international sales as buyers stepped up aggressively to pre-buy hot new titles. Mike Goodridge reports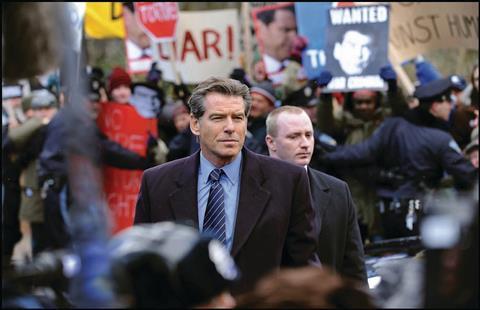 After a few markets of cautious spending, the message at the European Film Market in Berlin last week was that buyers need films and that sellers, certainly those specialising in big English-language films, were once more fielding offers and raising prices. Berlin itself may have been freezing, but the market freeze was showing signs of thawing.
Among the projects selling fast were Summit's Larry Crowne starring Tom Hanks and Julia Roberts, Icon's How I Spent My Summer Vacation starring Mel Gibson, Lionsgate's Riddick with Vin Diesel returning as the character he played in Pitch Black and The Chronicles Of Riddick, Inferno's The Grey starring Bradley Cooper and The Fields with Sam Worthington from QED International.
Depressed TV and DVD markets continued to pose challenges for distributors but theatrical markets are booming in a post-Avatar world and the potential of digital distribution is proving more concrete to buyers and sellers.
Optimism aside, however, certain realities remained unchanged. At a Screen International panel on the role of independent distributors in the financing of films, Nicolas Chartier, the veteran sales agent and Bafta-winning producer of The Hurt Locker, warned that the US pre-sales market is near dead.
"Let's face it, it's not going to get better," he said. "The US is not going to pick up more and more movies."
Indeed, with Miramax out of the picture and both Overture Films and The Weinstein Company in well-publicised distress, only a handful of US distributors have the wherewithal to pay much for acquisitions. Lionsgate and Summit are the notable exceptions, with studio units Fox Searchlight and Focus only picking up the occasional title.
"What's important is not the move in the US. It's the movie working in France, the UK and Germany."

Nicolas Chartier, producer
Japan, too, continues to display its lack of financial ­commitment to buying international films. "Before, we were counting 10%-15% [of a budget] on Japan. Today, it is zero. Before we were counting 20%-25% on America. Now, it's zero. That is already 40% less into the financing of a movie," added Samuel Hadida, the leading French distributor and prolific producer.
The challenge, said Chartier, was to persuade European exhibitors and TV channels to commit to a film even if they don't have a US theatrical release to use as evidence of market value.
"What's important is not the movie in the US," he said. "It's the movie working in France, the UK and Germany. That's what I hope progressively we're going to be able to do, because otherwise all these movies are going to stop being made."
The success of Hadida's production The Imaginarium Of Dr Parnassus in the UK and Italy — long before it was released in the US — can only act as a strong example of a film whose European openings didn't require a high-profile US release to find an audience.
Selected EFM Deals
Icon Entertainment International closed some heavyweight sales on its Mel Gibson-starrer How I Spent My Summer Vacation to Concorde/TMG in Germany, Metropolitan in France, Svensk in Scandinavia and Paradiso in Benelux.


Eagle also closed Italian deals on IM Global's special effects thriller Skyline, Richard Berry's 22 Bullets from EuropaCorp and The Other Woman from StudioCanal.


DeAPlaneta's Guillermo del Toro-produced horror movie Julia's Eyes went to Optimum in the UK, Kino Swiat in Poland, CinemaMondo in Scandinavia and Rosebud in Greece.


IFC Films bought North American rights to Natalia Smirnoff's Berlinale competition entry Puzzle from Memento Films International.

The Match Factory closed deals on Thomas Vinterberg's Submarino with MK2 in France, ABC Cinemien in Benelux, Mikado in Italy, Golem in Spain and Bitters End in Japan.


Lorber Films picked up US rights to Robert Guediguian's The Army Of Crime from StudioCanal.


Patrick Hughes' hot Berlinale title Red Hill sold to Momentum Pictures in the UK, Svensk in Scandinavia, Pinema in Turkey and Forum in Israel. Arclight Films is selling.


Ferzan Ozpetek's Loose Cannons was sold to Prokino in Germany and Austria, Transmission in Australia, Vertigo in Spain, ABC Cinemien in Benelux, Imovision in Brazil and CTV in Mexico by Fandango Portobello Sales.


Inferno sold Joe Carnahan's The Grey starring Bradley Cooper to Entertainment in the UK, Metropolitan in France, Universum/RTL in Germany, Icon in Australia and New Zealand, Central Partnership in Russia and Swen in Latin America.


John Woo-produced action film Reign Of Assassins was sold by Fortissimo Films to Lionsgate in the UK, Film Depot/Volga Films in Russia and the Baltics and United King in Israel.


Wild Bunch acquired German rights from Voltage Pictures to the supernatural thriller Faces In The Crowd, starring Milla Jovovich.


SND in France, Medusa in Italy, Tri Pictures in Spain, Svensk in Scandinavia, Belga in Benelux, Sun Distribution in Latin America and Alliance in Canada were among key buyers for Tom Hanks' Larry Crowne in which he will star alongside Julia Roberts. Summit International was handling sales.
Wild Bunch sold Zhang Yimou's competition title A Woman, A Gun And A Noodle Shop to Metropolitan in France, Momentum in the UK, Golem in Spain, Cinema Mondo in Scandinavia, Shani in Israel and Teleview in the Middle East.

Pathé International closed deals on Sylvain Chomet's animated feature The Illusionist to Klockworx in Japan, Cinema 11 in Italy, Paradiso in Benelux, Phars Film in the Middle East and Nutopia in Greece.