In South Korea, the Busan prosecutors' office has indicted former Busan International Film Festival (BIFF) director Lee Yong-kwan [pictured] and two others on charges of embezzlement. Deputy festival director and Asian Film Market head Jay Jeon has been indicted on charges of fraud.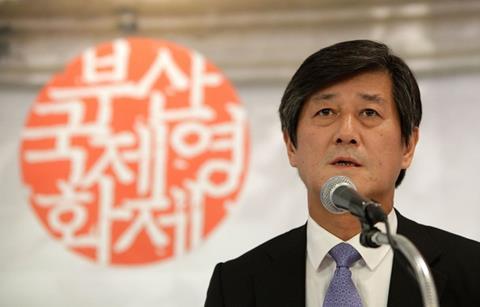 In a statement, BIFF festival director Kang Soo-youn today apologized "to everyone who cares for the Busan International Film Festival" for creating concern over the results of the prosecutors' investigation and pledged the festival would be run more transparently in future.
"It is greatly regrettable that this prosecutors' investigation started with political intent," she said. Kang Soo-youn added that it is "unprecedented" that a festival director be fired and have charges filed against him with the prosecutors "because of screening a certain film" referring to the documentary The Truth Shall Not Sink With Sewol, which Busan mayor Suh Byung-soo tried to block two years ago.
She stated that Lee's charges in particular, when he had "no personal corruption at all" were particularly hard to understand except as an extension of the political pressure put on him to resign since last year and should be fought aggressively in court.
Charges
Without naming names, the prosecutor's office - in a press release about their investigation into BIFF - said that the "former festival director" and the "current BIFF secretary general" together issued brokerage fees to a festival partner who demanded they make up for losses the company saw while working with the fest to start a cable TV channel for festival films.
According to prosecutors, the company, without having brokered any sponsorship money, was given KW27.5m ($23,660) in brokerage fees; neither of the two festival officials involved was found to have pocketed any money for themselves.
A "former secretary general" and "current deputy director" are accused in the same document of creating the illusions of brokerage, and then pocketing the fees of KW31m ($26,690) and KW11m ($9,470) respectively.
Rising pressure
On April 18, the Korean Film Group's Emergency Committee for Defending BIFF's Independence - a group of nine major film industry organizations who had threatened to boycott this year's fest, announced their decision to carry out a full-scale boycott. This was after they surveyed their members and 90% of the majority who replied agreed to it.
On April 27, the Korean Film Council (KOFIC) announced it will allot KW950m ($823,000) to BIFF this year on the condition that Busan City and the film festival's executive committee agree to "normalize" the fest, and that "Busan City's subsidy, which takes up about 50% of the festival's total budget, is smoothly issued and discharged".
The announcement was met with criticism in the press, partially because the allotment is on a similar level to last year's KW800m ($689,000), which was the result of a 45% cut compared to previous year and strongly protested by filmmakers as a "reprisal" against the fest.
In a statement issued on May 1, KOFIC maintained its reviewing committee for international film festival support is independent.
Bring Kim Dong-ho back?
Busan City has floated suggestions in the press that the founding and current honorary festival director Kim Dong-ho be named organizing committee chairman or co-chairman with someone else of their choice. Local reports go so far as to say it is "in actuality" a done deal between the city and BIFF.
But as of Saturday (April 30) at the Jeonju International Film Festival, Kim said he had not been approached with any such proposal by Busan City. BIFF also confirmed today that nothing official had been broached by City Hall.
Speaking to ScreenDaily, Busan Metropolitan City's Culture and Tourism Bureau director-general Lee Byong-suk said the matter is "still under discussion".