The 21st Busan International Film Festival (BIFF) wrapped on Saturday with its New Currents Award going to two Chinese debut features - Wang Xuebo's The Knife In The Clear Water and Zang Qiwu's The Donor.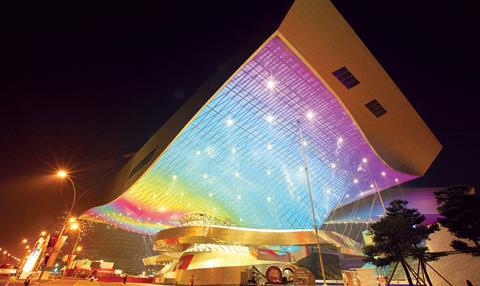 Running Oct 6-15 in the aftermath of a typhoon and dealing with a partial industry boycott and smaller operating budget, the festival saw a subdued atmosphere with total attendance down 27% from last year to 165,149 this year.
Accredited attendees were down 40% to 5,759 this year, including 1,381 market badge holders and excluding press.
Malian director Souleymane Cisse headed the New Currents jury, joined by Indian producer Guneet Monga, International Film Festival Rotterdam festival director Bero Beyer, Korean-Chinese director Zhang Lu and Iranian director Mahmoud Kalari.
They described The Knife In The Clear Water as "a poetic parable on grief and freedom" and praised The Donor for its "serene maturity" as an "excellently scripted film" that "plays as much on the images as on the immaculate timing and superb acting."
The jury gave a Special Mention to Navid Mahmoudi's Parting saying they wanted "to recognise his courage of realising as an Afghani-Iranian filmmaker his debut film about Afghani refugees in Iran."
BIFF closed with the international premiere of Hussein Hassan's Iraq-Germany-Qatar co-production The Dark Wind.
BIFF screened 299 films from 69 countries – two less titles than initially announced because of DCP traffic problems, according to organisers.
FULL AWARDS LIST
New Currents Award
The Knife In The Clear Water (China) Wang Xuebo
The Donor (China) Zang Qiwu
New Currents Special Mention
Parting (Afghanistan) Navid Mahmoudi
BIFF Mecenat Award - Korea
Neighborhood (Korea) Sung Seungtaek
BIFF Mecenat Award - Asia
The Crescent Rising (Philippines) Sheron Dayoc
Sonje Award - Korea
Viewer (Korea) Kim Soyoun
Sonje Award - Asia
Off-season (Kazakhstan) Yelzat Eskendir
Sonje Award - Special Mention
The Doomed Way (China) Guo Sanpi
Actor of the Year
Jane (Korean) Gu Gyohwan
Actress of the Year
Jane (Korea) Lee Minji
KNN Award
In Between Seasons (Korea) Lee Dong-eun
Busan Bank Award
Night Of A 1000 Hours (Germany) Virgil Widrich
Citizen Critics' Award
Jamsil (Korea) Lee Wanmin
Vision Director Award
Autumn, Autumn (Korea) Jang Woojin
Hyeon's Quartet (Korea) Ahn Seonkyoung
Daemyung Culture Wave Award
Yongsoon (Korea) Shin Joon
CGV Art House Award
Jane (Korea) Cho Hyunhoon
Busan Cinephile Award
The Apology (Canada) Tiffany Hsiung
NETPAC Award
Merry Christmas Mr. Mo (Korea) Lim Dae Hyung
FIPRESCI Award
White Ant (Taiwan) Chu Hsien-Che
Korean Cinema Award
Laurence Herszberg, director general of Forum des Images, France