Korea's Next Entertainment World (NEW) and China's Huace have launched a Beijing-based joint venture and announced their first projects.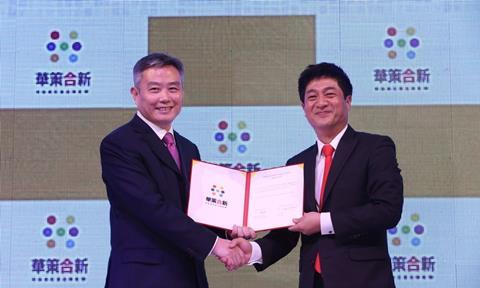 The collaboration of the two entertainment media majors will be titled Huace & NEW and their first three projects have been revealed at the Busan International Film Festival (BIFF)
Kim Woo Taek, CEO of NEW, said: "The company is a 50:50 joint venture established in China. On principle, both companies will be investing and producing together in all the films. We'll be sending employees to the new company to work on site.
"Huace has the highest market share in China. When they first decided to invest, it was a year ago. Since then, we've had exchanges and confirmations and have decided which projects to work on.
"But the biggest reason we have made this joint venture is because both companies share similar cultures of positivity, enterprise and creativity, so that we mesh well."
Huace & NEW's first three projects are:
The Witch (working title) - based on Kang Full's hit web cartoon series. Huace & NEW say it is the first case of an intellectual property acquired from the beginning with making two films for two different territories in mind.
Korean director Kim Daewoo (Obsessed) and Chinese director Leste Chen (20 Once Again) will oversee the artistic content of both the Korean and Chinese versions. Who will actually direct the respective films is yet to be decided.
The Witch is a mystery romance about a man who falls in love with a witch who always ends up bringing about terrible accidents to the people around her - especially the men who love her. So he sets out to study and figure out the rules of how these accidents occur as he risks his life to love her.
The Beauty Inside - based on an award-winning commercial, was NEW's popular summer release starring Han Hyo-joo opposite a multitude of actors and actresses who played a man named Woo-jin who would wake up every day looking like a different person yet still in love with the same girl.
Director Baik of the Korean version will also direct the Chinese remake. The cast is undecided but Han said, "I'm really curious to see who plays my role in China. And I would be honored to be able to play one of the Woo-jin roles."
The Phone – mystery thriller directed by Kim Bong-joo stars Son Hyun-joo (Hide and Seek) as a successful lawyer who relives the day his wife got murdered, talking to her on the phone as he desperately tries to find a way to save her this time. The Korean original is set for Oct 22 release in Korea, while the Chinese version is yet to have details finalized.
Son also said, "I'm really curious about who will play my part in the Chinese version. I'll follow them to China when they are casting to find out."
Signing
The signing ceremony also was attended by NEW president Jang Kyung Ik, VP of Huace Group Fu Bin Xing, president of Huace Union Yoo Young Ho, director of NEW's Investment & Production Division Samuel H. Kim, Huace Pictures director of International Business John Chiew and NEW deputy CEO Sug Dong Wuk.
Guests including Busan co-directors Lee Yong-kwan and Kang Soo-youn, Korean Film Producer's Association head Lee Eun and Korean Association of Film Art and Industry director Lee Choon-yeon. Honorary BIFF director Kim Dong-ho made a speech commemorating the new enterprise and congratulating the partner companies.
This year, NEW has been a major sponsor at the Busan International Film Festival (BIFF).
"Huace & NEW will grow with the Busan film festival, which has been through so much hardship and continues moving forward strongly," added Kim.