Festival will open with the world premiere of Zhang Lu's Korean film A Quiet Dream.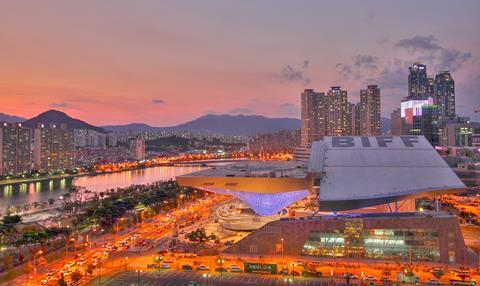 Busan International Film Festival (BIFF) on Tuesday unveiled its line-up, set to open with the world premiere of Zhang Lu's Korean film A Quiet Dream.
Running October 6-15, the 21st BIFF will screen a total of 301 films from 69 countries with 96 world premieres and 27 international premieres. The festival will close with the international premiere of Iraq-Germany-Qatar co-production The Dark Wind, directed by Hussein Hassan (Narcissus Blossom).
Festival director Kang Soo-youn said of A Quiet Dream: "It's a film that people who like films and people who make films can't help but like."
The latest from Korean-Chinese director Zhang Lu (Dooman River, Grain In Ear), A Quiet Dream stars Han Ye-ri (Haemoo) as a young woman caring for her comatose father while running a bar and being wooed by three men.
Young Korean indie directors Yang Ikjune, Yoon Jong-bin and Park Jung-bum play the three men – each reminiscent of characters in their own respective films - the vagabond in Breathless, the private in The Unforgiven, and the North Korean defector in The Journals Of Musan.
"There are rather a lot of film industry people in the film. It's because the budget was so low, I asked a lot of acquaintances I'm friendly with to come help. I thought they came because we were friendly but actually, it turned out it was because of Han Ye-ri," said Zhang, thanking his lead actress.
Korean participation
In its second year of controversy, BIFF is dealing with a partial boycott from the local industry. Four of the Korean Film Groups' Emergency Committee's nine groups are still holding out on lifting the boycott, while acknowledging other members' right to participate.
Kang echoed founding director and current organising committee chairman Kim Dong-ho in the declaration that they would "continue to talk with the film community" to convince them that the festival's independence has been secured and they should participate.
BIFF's Korean Cinema Today – Panorama section boasts films such as Park Chan-wook's The Handmaiden, Kim Jee-woon's The Age Of Shadows, Hur Jin-ho's The Last Princess and Na Hong-jin's The Wailing.
The Korean Cinema Today Vision section has films from established independent filmmakers such as Host & Guest director Shin Dong-il's Come, Together and Camel(s) director Park Kiyong's Picture Of Hell, as well as many from younger filmmakers such as 2013 New Currents Award winner Ahn Seonkyoung (Pascha) with her latest, Hyeon's Quartet.
Kim said the festival's city and national government budget support remains largely the same, but private sponsorship has dropped "because it was uncertain whether the festival would open this year or not until July."
"We foresaw in May and June that this could happen and have been preparing for this. Of course the overall size of the festival will have to be smaller but we are maintaining the quality of our selection," said Kang.
Freedom of expression
BIFF organisers highlighted a focus on freedom of expression in their selections – to be seen partially in the example of the closing film, which is about what happens when a young man's fiancée is abducted and sold to a slave market by IS, then gets ostracised after she is rescued and brought back to their refugee camp.
Other examples of selections with a focus on freedom of expression include Mohsen Makhmalbaf's The Nights Of Zayandeh-rood, which was banned in Iran after one screening, recently remastered and screened in Venice with 37 minutes of footage and some sound missing; Kamal Tabrizi's Iranian film Reward, which will see its world premiere in Busan after having its ban lifted; and Andrzej Wajda's biopic on avant-garde artist Wladyslaw Strzeminski, Afterimage, which is also screening in Toronto.
New Currents
BIFF's first and second features competition for up-and-coming Asian directors, New Currents has 11 new features – all world premieres. The selection includes Asian Cinema Fund winner Merry Christmas Mr. Mo, directed by Lim Dae-hyeong and Wang Xuebos' Knife In The Clear Water. (Scroll down for full list.)
Veteran Malian director Souleymane Cisse (Waati, O Ka) will head the New Currents jury. He will be joined by Indian producer Guneet Monga (The Lunchbox), International Film Festival Rotterdam festival director Bero Beyer, Iranian cinematographer Mahmoud Kalari (The Wind Will Carry Us) and opening film director Zhang Lu.
Solidarity from around the world
Executive programmer Kim Ji-seok said this year's festival programme was made possible "because of the solidarity filmmakers showed us" in a tumultuous time for the fest.
"We saw the advancement of new directors in Korean, Asian, World Cinema and Flash Forward, and established directors who wanted to send us their films – such as Mohsen Makhmalbaf with his banned film and Eric Khoo with the world premiere of his Singapore National Art Gallery omnibus Art Through Our Eyes, and also those who wanted to support and participate in the festival whether they had films to present or not," he said.
Hou Hsiao-Hsien and Kore-eda Hirokazu expressed such an interest and thus will be participating in a Special Talk with Lee Chang-dong during the fest.
The Wide Angle section for documentaries, shorts and animations is curating a section of 14 Pixar shorts – "all the ones that screened in front of their features" according to Kim.
Its Documentary Competition includes Asian Network of Documentary (AND) Fund support winners such as Baby Ruth Villarama's Sunday Beauty Queen making its world premiere, while its Documentary Showcase has AND Fund winners such as Indian film The Cinema Travellers, which won an award in Cannes and is screening in Toronto.
Retrospectives this year will showcase Korean genre film pioneer Lee Doo Yong, Colombian cinema and ten films from Asian Filmmaker of the Year winner, the late Abbas Kiarostami.
The Asian Film Market, running October 8-11, will feature E-IP Pitching and Book To Film events as well as legal and financing seminars. The previously announced Asian Project Market (APM) selection can be seen here:
New Currents Line-up
(Title/country/director)
A Billion Colour Story (India) Padmakumar Narasimhamurthy
Burning Birds (France-Sri Lanka) Sanjeewa Pushpakumara
The Donor (China) Zang Qiwu
Her Mother (Japan) Sato Yoshinori
In Between Seasons (Korea) Lee Dong-eun
Knife In The Clear Water (China) Wang Xuebo
Lady Of The Lake (India) Haobam Paban Kumar
Merry Christmas Mr. Mo (Korea) Lim Dae-hyeong
Parting (Iran-Afghanistan) Navid Mahmoudi
Someone To Talk To (China, Hong Kong) Liu Yulin
White Ant (Taiwan) Chu Hsien-Che.