EXCLUSIVE: WestEnd inks deal on western starring Liam Hemsworth, Woody Harrelson; first look picture.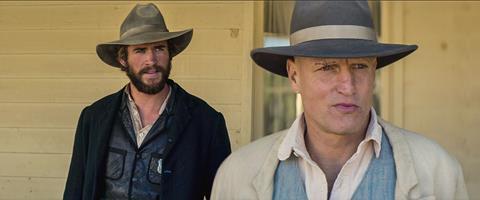 WestEnd Films has sold Western By Way of Helena to Weltkino for German-speaking territories.
Liam Hemsworth, Woody Harrelson, Alice Braga (Elysium) and Emory Cohen (The Place Beyond the Pines). star in director Kieran Darcy Smith's (Wish You Were Here) drama about a Texas Ranger (Hemsworth) investigating a series of unexplained deaths in a town called Helena.
Matt Cook wrote the screenplay and executive produces.
The film was developed by David Hoberman and Todd Lieberman, who are producing the film under their Mandeville Films banner.
Atomic Entertainment's Adam Rosenfelt and Maureen Meulen are producing alongside Mandeville, and are also financing. Nathalie Marciano serves as executive producer.
WestEnd's EFM slate also includes Benedict Andrew's Blackbird, Jeremy Saulnier's crime-thriller Green Room and Tomm Moore's Song of the Sea.
Weltkino is the distribution outfit of Kinowelt founder Michael Koelmel and producer Dietmar Guentsche.​