Body, one of the stars of White God, gets his moment at the Un Certain Regard premiere.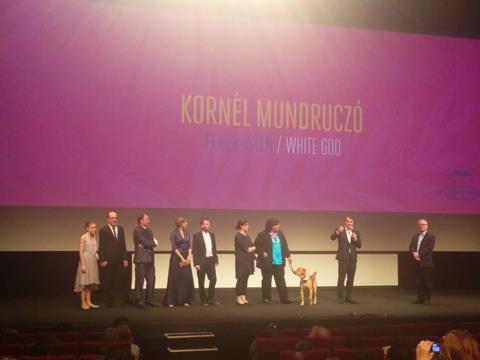 It's not often that Thierry Fremaux shares the stage with a dog. But that's what happened yesterday in Cannes for the Un Certain Regard premiere of Kornel Mundruczo's White God. Body, the 'canine actor' who plays Hagen in White God, took to the stage at the Debussy along with the human cast and crew.
There are more than 200 dogs in the production.
Pictured right to left are: Fremaux, Mundruczo, Teresa Ann Miller the animal coordinator and technical advisor, Body, producer Viktoria Petranyi, cinematographer Marcell Rev, writer Kata Weber, and actors Szabolcs Thuroczy, Sandor Zsoter, and Zsofia Psotta.