Teams battle it out to cook for jury head Robert De Niro, in Cannes' very own masterchef, Le Menu De Cannes.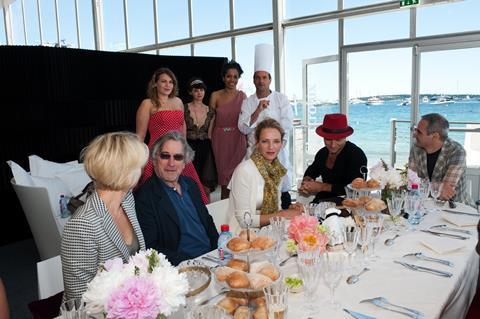 Anyone in the UK who watches the TV show Masterchef will know how intimidating it is cooking for judges John and Greg…
So imagine how nervous the teams in Cannes' very own masterchef, Le Menu de Cannes (sponsored by Electrolux) felt when they had to come up with a menu "fit for Robert De Niro" (and Uma Thurman and Jude Law..).
That was the brief put to French and Russian teams who battled it out in front of an audience of expectant diners to be crowned the winning team.
The winning menu, prepared by team "Les Cook and Roll" from France (unsurprisingly!), took inspiration from de Niro's birthplace, New York, with hints of Sicilian rustic food. Even the table design was based around the New York elegance of The Greenwich Hotel, which De Niro owns.
Here's the winning menu and the runner up..which one would you choose? Right now, we'd probably go for the one that has vodka in it…
The Le Menu de Cannes winning menu:
Puree potato in a clay shell with aioli
Lobster-stuffed courgette flower with Sicilian caponata
Salt cod served with algae and seasonal vegetables
Mascarpone with raspberries and basil granita
The Le Menu de Cannes runner-up menu from 'Taste of Life' (Russia):
Homemade berry vodka
Modern interpretation of 'Borscht'
Beef tenderloin in a red wine and chocolate sauce, served with watercress salad and black bread
Berry sponge, carrot jam and Russian kissel jelly