EXCLUSIVE: WWII spy mistress drama to star Kelly Reilly and Tim Roth launched in Cannes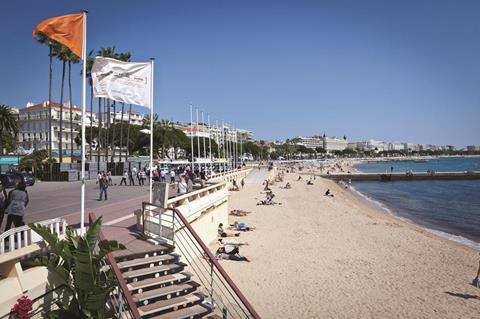 French sales company Other Angle Pictures has secured a raft of pre-sales on John Hay's upcoming post-WWII spy drama Lives In Secret, starring Kelly Reilly and Tim Roth.
"We're very happy with this market in terms of the deals we've done and the great reception we had for our new and upcoming projects," commented company MD Olivier Albou.
Lives In Secret has sold to Australia (Vendetta Films), South Africa (M-Net), Latin America (CDC United Network), Middle East (Falcon) and ex-Yugoslavia (2i Films) and is in advance talks for the UK, France, Belgium and Japan.
Adapted from Sarah Helm's A Life In Secrets, the film tells the true story of Vera Atkins, a British intelligence officer who trained and dispatched hundreds of agents to Occupied France.
After the war, Atkins made it her personal mission to ascertain the fate of all the female agents she lost. The film revolves around her interrogation of her Gestapo counterpart after the war.
It was announced during Cannes that True Detective star Reilly had signed to play Atkins opposite Tim Roth as Gestapo officer Hans Kieffer.
The film is produced by Elliot Jenkins and Jeremy Bolt and is due to shoot in Yorkshire this December.
Buyers sign-up Blind Date
Albou is also reporting strong interest in Clovis Cornillac's French-language romantic comedy Blind Date, revolving around the unlikely pairing of two neighbours — one a music-mad pianist, the other a jigsaw designer who craves silence.
Released on May 6 in France, the film came in fifth in the box office chart in its first week on release, selling 140,000 tickets in the first five days.
As well as potential remake deals in multiple territories, the film has sold to Belgium (Victory), Switzerland (JMH), Germany (Pandastorm Pictures), Mexico (Nueva Era), Australia (Vendetta), Turkey (Fabula), Hungary (Cinetel), Taiwan (Flash Forward), Korea (Raon), Middle East (Shooting Stars) and Portugal (4U Films).
Other sales
The company has also secured more sales for Sam Friedlander's Airplane-style comedy Larry Gaye, starring Mark Feuerstein as a renegade flight attendant.
Alongside previously announced deals to Yugoslavia (2i Films) and South Africa (M-Net), it has also sold to France (Recidive), Germany (Ascott Elite), Middle East (Front Row) and Turkey (Fabula).
Shooting
Edouard Pluvieux's buddy, heist gone-wrong drama Public Friends No.1 — co-starring Kev Adams and Vincent Elbaz and currently shooting for a February 2017 release — also achieved early deals to Belgium (Victory) and Switzerland (Frenetic).
In The Forests Of Siberia, starring Raphael Personnaz as a man befriended by a Russian man on the run while on a winter retreat to find himself in Siberia, also sold to Switzerland (JMH) and Turkey (Fabula). ARP is set to release the film in France in 2016.
Thomas Sorriaux's A Mighty Team, a soccer-themed father-and-son reconciliation tale starring Gerard Depardieu and Mehdi Sadoun, has sold to Switzerland (Frenetic).
Other Angle has also secured a trio of deals on on Francois Margolin's art world intrigue drama The Art Dealer to the US (Menemsha Films), Australia (Palace Films) and Canada (K Films).