STX made a big splash, while Amazon's charm offensive overshadowed Netflix.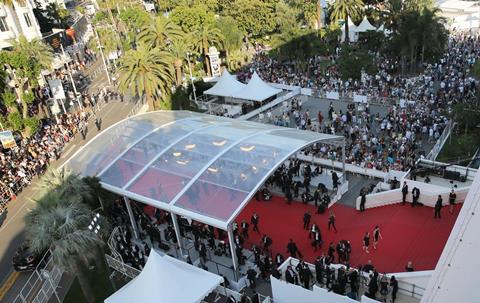 The sunlight in Cannes may have confounded early forecasts of interminable rain but the outlook for the film business remains stormy.
While several US companies with points to prove strutted their stuff and international buyers circled must-have titles, the struggle to survive in a dynamic post-2008 landscape remains the most urgent narrative.
That was reflected as buyers and sellers sent fewer staff, while the paucity of foot-traffic on the Croisette hit home as tourists stayed away over terrorism fears.
STX Entertainment, the upstart studio launched by Bob Simonds in 2014, paid around $50m for Martin Scorsese's upcoming The Irishman and $9m for Molly's Game, a hot package from a jumbo slate introduce by Sierra/Affinity.
That placed a marker in the sand, however the talk of Cannes was unquestionably Amazon Studios. The platform arrived on the Croisette with five films in the festival and two notable market buys on You Were Never Really Here and Peterloo.
The company has been on a charm offensive to the theatrical community and at a panel yesterday expressed its faith in the importance of sales agents.
"Amazon is willing to work with distributors to support their distribution efforts in any given territory," said The Exchange CEO Brian O'Shea, who reported a strong response to the documentary Gleason that Amazon and Open Road will release in the US.
Yet for all its enthusiasm, Amazon Studios cannot mask its digital DNA and has inevitably sparked concern just as Netflix, which yesterday closed a splashy deal for The Wheelman, did in 2015.
Except for the top 1%, most sales agents are on the endangered species list. They make a less compelling case when their buyers in high-piracy territories feel the pressure to release Amazon Studios content day-and-date with the US before it becomes available online in there.
"The current drivers of the independent market are clearly the US domestic buyers, the SVoD platforms, China and on the international side especially, the studios themselves," said Bill Johnson of Lotus Entertainment, which scored sales on upcoming Keanu Reeves sci-fi Replicas.
Jason Moring, Double Dutch International president, reported a strong response after introducing sales on Super Troopers 2 and the animation Spark.
"It's been a great market for us," said Moring, who noted that South Africa had begun to emerge as an aggressive buyer.
"Mark [Padilla] joined us from Myriad Pictures five weeks ago [as svp of sales and acquisitions] and we're elevating our slate. The buyers have responded and we've hit our targets."
Cast is essential at a time when TV is pulling talent to the smaller screen. Covert Media locked in Daisy Ridley from Star Wars: The Force Awakens alongside Naomi Watts to its upcoming drama Ophelia and buyers flocked. Not everybody will be so lucky.