The full line-up of Critics' Week world premieres at the 68th Cannes Film Festival with details on each title including sales contacts.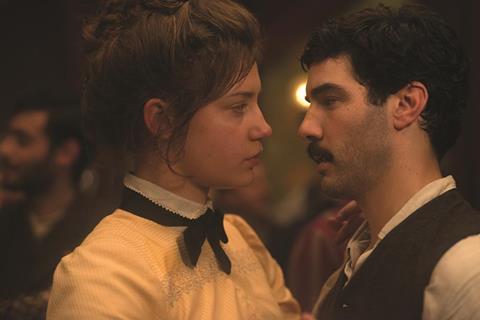 The Anarchists (Fr)
Dir Elie Wajeman
Opening film
Wajeman's follow-up to his 2012 Directors' Fortnight drama Aliyah sees A Prophet protagonist Tahar Rahim and Blue Is The Warmest Colour lead Adele Exarchopoulos star in the story of a policeman who infiltrates a group of anarchists in 19th-century Paris. Wajeman reteams with Aliyah writer Gaelle Macé on the script. Produced by Lola Gans of 24 Mai Production.
Contact Wild Bunch obarbier@wildbunch.eu
Learn By Heart (Fr)
Dir Mathieu Vadepied
Closing film
Special Screening The directorial debut of Vadepied, one of France's most celebrated cinematographers (Intouchables, Read My Lips), Learn By Heart (La Vie En Grand) is a coming-of-age drama about a 14-year-old boy living with his mother in a tiny flat in the Paris suburbs, and juggling the pressures of school, friends and family. Balamine Touré, Ali Bidanessy and Guillaume Gouix star. The film is co-produced by Intouchables directors Eric Toledano and Olivier Nakache's Ten Films, along with Bruno Nahon's Unité de Production. Gaumont has international rights and is releasing the film in France.
Contact Gaumont cgaget@gaumont.fr
Coin Locker Girl (Kor)
Dir Han Jun-hee
Special Screening Set in Korea's Chinatown, this feature debut by Han Jun-hee is a character-driven crime drama about a girl who was abandoned in a locker at a subway station and then sold off to a woman who rules the local neighbourhood. Han previously co-wrote the script for the supernatural thriller The Gifted Hands. Kim Hye-soo (The Thieves, The Face Reader) stars alongside Korean rising star Kim Go-eun, who received critical praise for her performance in A Muse.
Contact CJ Entertainment filmsales@cj.net
Dégradé (Pal-Fr-Qat)
Dirs Arab and Tarzan Nasser
Palestinian writer-director twin brothers Mohammed and Ahmad Nasser, aka Arab and Tarzan Nasser, reteam with producer Rashid Abdelhamid on their feature debut after the trio's 2013 short Condom Lead was nominated for the short film Palme d'Or. The black comedy, which is also produced by Rani Massalha and Marie Legrand's Films du Tambour, focuses on a group of women in a beauty salon in the Gaza
strip. Hiam Abbass and Maisa Abd Elhadi are among the cast.
Contact Elle Driver sales@elledriver.eu
Les Deux Amis (Fr)
Dir Louis Garrel
Special Screening Vincent Macaigne and Golshifteh Farahani star alongside Garrel in his feature directing debut, a romantic comedy in which a film extra (Garrel) falls in love with an enigmatic sandwich bar worker. Love Songs writer-director Christophe Honoré co-wrote the script, which is loosely based on the play The Moods Of Marianne by Alfred de Musset. French heartthrob Garrel is the son of veteran director Philippe Garrel, whose own film In The Shadow Of Women opens Directors' Fortnight.
Contact Indie Sales info@indiesales.eu
Krisha (US)
Dir Trey Edward Shults
The micro-budget winner of this year's SXSW grand jury and audience awards for narrative feature made waves in Texas and could have a repeat effect on the Croisette. First-timer Shults adapted from his award-winning SXSW 2014 short film of the same name and cast his own aunt and mother in the tale of a drug-addled woman who returns to the bosom of her family over the holiday.
Contact Visit Films info@visitfilms.com
Land And Shade (Col-Neth-Chi-Bra-Fr)
Dir Cesar Augusto Acevedo
Colombian first-time film-maker Acevedo's Land And Shade (La Tierra Y La Sombra) traces a man who arouses long-buried feelings in his ex-wife when he returns to his home following a 17-year absence after his son falls ill. Haimer Leal, Hilda Ruiz, Marleyda Soto, Edison Raigosa and Juan Felipe Cardenas star.
Contact Burning Blue (Colombia) contacto@burningblue.com.co
Mediterranea (Ger-US-Qat-It-Fr)
Dir Jonas Carpignano
Carpignano's feature debut, based on his acclaimed short, follows a young man who leaves Burkina Faso for Italy, only to find he is unprepared for the intolerance facing immigrants in the country. Carpignano and producer Jon Coplon's short A Ciambra won the Discovery Award last year at Cannes. Chris Columbus is one of several producers on the film.
Contact WME Global filmsales@wmeentertainment.com
Paulina (Arg-Bra-Fr)
Dir Santiago Mitre
The Argentinian director earned admirers with his 2001 debut The Student and hopes are high for his follow-up adaptation of Daniel Tinayre's 1961 film La Patota. The thriller centres on a social action lawyer whose ideology is put to the test when she returns to work in the area where she was attacked by a gang. Dolores Fonzi and Oscar Martinez star.
Contact Versatile vpichon@versatile-films.com
Sleeping Giant (Can)
Dir Andrew Cividino
Cividino's drama started out as a feature, but when financing fell through he turned it into a short before it re-emerged as a feature. "The film itself is totally different from what it would have been if we hadn't made that short," says the Ontario-based film-maker. Sleeping Giant stars newcomers Nick Serino and Reece Moffett and follows a teenager who learns about a family infidelity.
Contact Seville International apoirier@filmsseville.com
The Wakhan Front (Fr-Bel)
Dir Clément Cogitore
Shot in secrecy at the end of last year, The Wakhan Front (Ni Le Ciel, Ni La Terre), the feature debut of acclaimed short film-maker Cogitore, is set in Afghanistan as Western troops prepare to withdraw. Jérémie Renier stars with Swann Arlaud, Kevin Azaïs and Finnegan Oldfield. Cogitore co-wrote the script with Thomas Bidegain, director of Directors' Fortnight entry Cowboys. The Wakhan Front is produced by France's Kazak Productions in collaboration with Belgium's Tarantula.
Contact Indie Sales info@indiesales.eu