Ahead of this year's Cannes Film Festival, Screen looks back at the hits and misses of 2009 according to our jury of critics.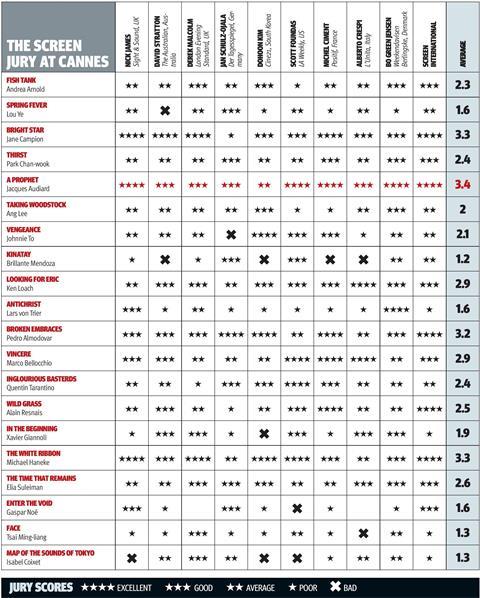 Screen's jury of international critics has long been a strong diviner as to what will win the top prizes at the Cannes Film Festival – and 2009 was no different.
Topping the grid was Jacques Audiard's crime drama A Prophet, starring then newcomer Tahar Rahim, which scored an impressive 3.4 out of 4 and went on to win to the festival's Grand Prix.
The winner of the coveted Palme d'Or was Michael Haneke's chilling pre-war drama The White Ribbon, which came a close joint second on the grid with 3.3 alongside Jane Campion's period romance Bright Star.
While the Palme d'Or alluded Audiard in 2009, the French filmmaker returned in 2015 with Dheepan and picked up the festival's top prize.
The 2009 line-up also featured a divisively generous portion of violence courtesy of Quentin Tarantino's revenge fantasy Inglourious Basterds, which scored 2.4 on the jury chart and won the best actor award for Christoph Waltz.
Lars Von Trier provided his habitual dose of controversy via Antichrist – the first of his so-called "Depression Trilogy" - but only secured a score of 1.6 from the critics. The jury was equally unimpressed with Gaspar Noe's provocative Enter the Void, which also scored 1.6.
Returning directors
Several directors that made the Competition line-up in 2009 are returning to Cannes this year. Pedro Almodovar, who scored an impressive 3.2 on the grid for romantic thriller Broken Embraces, will show Julieta – based on a trio of Alice Munroe short stories.
Six-time Palme d'Or nominated Italian director Marco Bellocchio, who scored 2.9 for the Ida Dalser biopic Vincere, will open this year's Director's Fortnight with Sweet Dreams.
Andrea Arnold, whose British drama Fish Tank scored 2.3 and won the Jury prize in 2009, is back with her first US-set production, American Honey.
Cannes perennial Ken Loach, who scored 2.9 for his feelgood feature Looking for Eric returns with I, Daniel Blake, bringing his grand total of Cannes selections up to a record-breaking 15.
Also returning this year is the Philippines' Brillante Mendoza with Ma' Rosa. Mendoza's Kinatay came bottom of the Jury Grid in 2009 with a lowly 1.2, but he probably wasn't too disheartened – that year, he became the first Filipino filmmaker to win best director at Cannes.