As Cannes approaches, Screen recalls what came top (and bottom) of our Jury Grid in 2011 - a year that included The Artist, Drive and a wave of controversy from Lars Von Trier.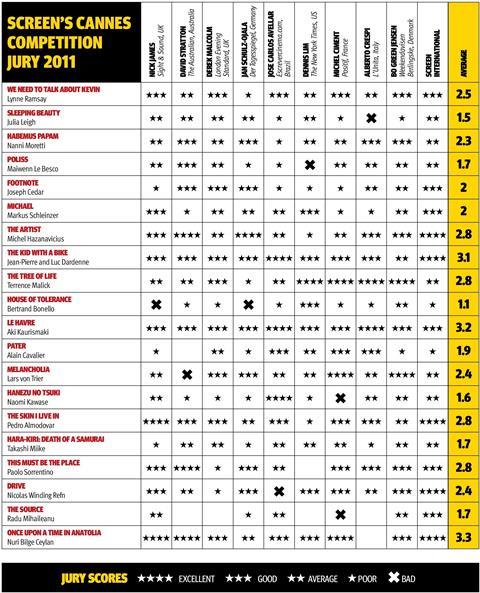 In annual tradition, Screen's illustrious jury of international critics delivered their verdict on the films in Competition at Cannes 2011 - the year that the Palme d'Or went to Terrence Malick for his experimental drama The Tree of Life.
The film marked the elusive US auteur's first return to the festival since winning best director for Days of Heaven in 1978.
But Screen's jury was not as impressed. While The Tree of Life scored a respectable 2.8 out of 4, top marks went to atmospheric Turkish crime drama Once Upon a Time in Anatolia by Nuri Bilge Ceylan, with a score of 3.3.
The film was Ceylan's fourth in Competition at Cannes, and tied for the Grand Jury Prize with Jean-Pierre and Luc Dardenne's The Kid With A Bike. Ceylan returned in 2014 with the epic Winter Sleep, which won the Palme d'Or.
The Kid With A Bike scored an impressive 3.1 on the Jury Grid. The Belgian brothers - who won the Palme d'Or in 1999 with Rosetta and again in 2005 with L'Enfant - return to Cannes in Competition for the seventh time this year with The Unknown Girl.
Von Trier controversy
The 64th edition of the festival is perhaps best remembered for a storm of controversy generated by Danish filmmaker Lars Von Trier. The festival declared the director "persona non grata" for jokingly making pro-Nazi comments at a press conference.
Despite being run out of town, Von Trier's apocalyptic drama, Melancholia, remained in Competition - scoring a middling 2.4 on the Jury Grid.
Other high scorers included Aki Kaurismaki's warm-hearted comedy drama, Le Havre, which won the FIPRESCI prize and racked up 3.2, and Paolo Sorrentino's English-language debut, This Must Be The Place, with 2.8.
Sorrentino's leading man, Sean Penn, is in Competition this year with his directorial feature The Last Face, starring Charlize Theron and Javier Barden as aid workers in Africa.
Returning filmmakers
Several directors that made the Competition line-up in 2011 are returning to the Croisette this year: Nicolas Winding Refn, who scored 2.4 for his ultra-stylish, Ryan Gosling-starrer Drive - which won him best director at the festival - has thriller The Neon Demon in Competition.
Another is Cannes regular Pedro Almodovar, who scored 2.8 for psychological thriller The Skin I Live In in 2011, and this year brings Julieta, based on a trio of Alice Munroe short stories.
Elsewhere, The Artist by Michel Hazanavicius was a further highlight. The love letter to silent cinema was awarded 2.8 by the jury panel and went on to win five Oscars, including best picture and best director, as well as grossing more than $133.4m worldwide.