Elie Wajeman's The Anarchists, starring Palme d'Or winner Adele Exarchopoulos and Cesar winner Tahar Rahim, to open Critics' Week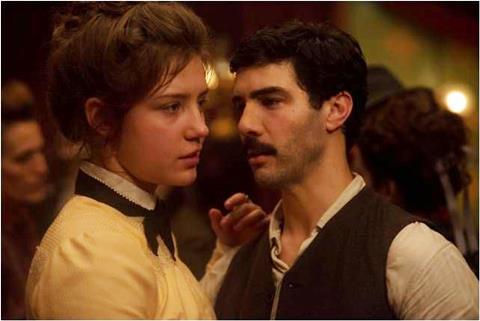 Scroll down for full list
Cannes Critics' Week, devoted to first and second features, has unveiled the line-up for its 54th edition (May 14-22).
In total, 1,750 shorts and 1,000 features were submitted for consideration.
Artistic director Charles Tesson said this year's poster - showing actress Lou de Laâge, seemingly embracing the air on a beach - captured the spirit of the parallel section.
"On the poster the actress Lou de Laâge embraces the open horizon in front of her," he said. "This wonderful energy and amazing life force it carries embody the desire leading us to discover the new breath of fresh air in cinema worldwide."
The section will open with French Elie Wajeman's second film The Anarchists (Les Anarchistes) set in Paris in 1899, starring the reportedly sizzling on-screen couple of Tahar Rahim and Adèle Exarchopoulos.
Rahim stars as a French army corporal commissioned to infiltrate a dangerous anarchist group, who falls for the girlfriend of its leader, played by Exarchopoulos, in her biggest role since Blue Is The Warmest Colour.
Wajeman's debut feature Aliyah – starring Pio Marmai and Cédric Kahn as two Jewish brothers who decide to emigrate to Israel in search of a better life - premiered in Directors' Fortnight in 2102.
The closing film is Mathieu Vadepied's Learn by Heart (La Vie en Grand) about a troubled adolescent living in two rooms with his single mother in an impoverished Paris suburb who decides to take his destiny in his own hands after an unexpected event.
It is co-produced by Intouchables directors Eric Toledano and Olivier Nakache.
There will be special screenings of Korean director Han Joon-hee's Coin Locker Girl, about a girl found as a baby in a locker in a subway station; and actor Louis Garrel's debut feature Les Deux Amis, starring Garrel and Vincent Macaigne as two friends who fall for the same girl, played by Golshifteh Farahani, a sandwich stall attendant with a secret.
A total of seven films will screen in the feature-length competition:
Palestinian filmmakers Arab and Tarzan Nasser's debut feature Dégradé, a Gaza Strip-set comedy revolving around a group of women trapped in a beauty salon by fighting.

The brothers were last in Cannes with the short Condom Lead in 2013, about the difficult of making love during an Israeli siege. Hiam Abbass and satirical comedian Mana Awad are in the cast.


US director Trey Edward Shults' micro-budget SXSW hit, Krisha, revolving a long-absent woman's chaotic attempts to re-connect with her estranged family over a holiday weekend.


Italo-American filmmaker Jonas Carpignano's timely debut feature, Mediterranea, about two friends from Burkina Faso, attempting to make a life in Europe, after surviving the treacherous journey across the Mediterranean Sea.


Argentine director Santiago Mitre's Paulina (Patota), starring Dolorès Fonzi as a promising young lawyer who ditches a hot shot career in Buenos Aires to teach in an impoverished town on the border with Brazil and Paraguay. Brutally attacked by a group of youths shortly after her arrival, the young woman has to decide whether to continue with her mission.

It is Mitre's second film after The Student, which won Locarno's special jury prize in 2011.


French filmmaker Clément Cogitore's The Wakhan Front (Ni le ciel, ni la terre), starring Jérémie Renier as a French army captain on a mission along the Afghan border with Pakistan, whose men start mysteriously disappearing in the middle of the night.


Canadian director Andrew Cividino's Lake Superior-set Sleeping Giant, an extension of his critically acclaimed short, about a group of daredevil teenagers who push themselves to the limits, with dangerous consequences.


Colombian filmmaker César Augusto Acevado's La tierra y la sombra (La Terre et L'Ombre) about an old man who returns to his home in the middle of a sugar plantation to see his son who is gravely ill. He discovers his son's illness is related to pollution caused by the exploitation of the sugar cane and decides to do something about it.
There are a further 10 titles in the short and medium-length competition, including Chickenpox (Varicella) by Italy's Fulvio Risuelo, who took won a Cinefondation award at Cannes last year for his short film Lievito Madre; and US director Kevin Phillips' Too Cool for School, about an apathetic teenager who quits school with nightmarish consequences.
As part of the Critics' Week programme, the 10 directors in the short and medium length competition have been invited to participate in the new Next Step programme, aimed at accompanying them on their journey towards making their first feature.
As previously announced, the jury will be headed by Israeli actress and director Ronit Elkabetz. She will be joined by director Katell Quillevéré, cinematographer Peter Suschitzky, Toronto programmer Andréa Picard, and film critic Boyd Van Hoeij.
Critics' Week 2015
The Anarchists, Elie Wajeman (opening film)
La Vie en Grand, Mathieu Vadepied (closing film)
SPECIAL SCREENINGS
Coin Locker Girl HAN Jun-hee
Les Deux Amis Louis Garrel
FEATURE LENGTH COMPETITION
Dégradé, Arab and Tarzan Abunasser
Krisha, Trey Edward Shults
Mediterranea, Jonas Carpignano
Ni le ciel, ni la terre, Clement Cogitore
Paulina, Pauline Santiago Mitre
Sleeping Giant, Andrew Cividino
La tierra y la sombra, Augusto Cesar Acevedo
SHORT, MID-LENGTH COMPETITION
Alles Wird Gut (Everything Will Be Okay) Patrick Vollrath
Boys (Pojkarna) Isabella Carbonell
Command Action João Paulo Miranda Maria
La Fin du dragon (The Dragon's Demise) Marina Diaby
The Fox Exploits the Tiger's Might Lucky Kuswandi
Jeunesse des Loups-Garous (Monsters Turn Into Lovers) Yann Delattre
Love Comes Later Sonejuhi Sinha
Ramona Andrei Crețulescu
Too Cool for School Kevin Philipps
Varicella (Chickenpox) Fulvio Risuleo