Xavier Dolan, Sophie Marceau and Sienna Miller also among those on the Cannes Film Festival's Competition jury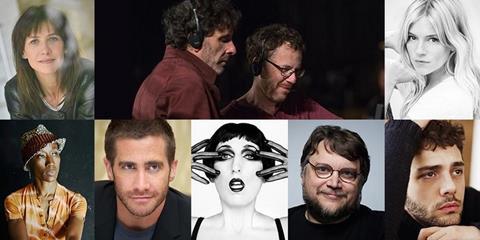 The Cannes Film Festival has named the jury for its 68th edition, comprising nine world cinema names from Canada, Spain, the US, UK, France, Mali and Mexico.
US filmmakers Joel and Ethan Coen, who won the Palme d'Or in 1991 for Barton Fink and the Grand Prize of the Jury in 2013 with Inside Llewyn Davis, were previously announced as co-presidents of the jury, which will include four women and five men.
The jury will select from the films in Competition, with prize winners to be announced on stage at a ceremony on May 24. The winner of the Palme d'or will be screened during the festival's closing evening on May 25, in the presence of the jury and the entire team of the winning film.
THE JURY
Joel & Ethan Coen (Presidents) Directors, Writers, Producers (US)
Rossy de Palma, Actress (Spain)
Sophie Marceau, Actress, Director (France)
Sienna Miller, Actress (UK)
Rokia Traoré, Composer, Singer-songwriter (Mali)
Guillermo del Toro, Director, Writer, Producer (Mex)
Xavier Dolan, Director, Writer, Producer, Actor (Can)
Jake Gyllenhaal, Actor (US)
Spanish actress Rossy de Palma is known as Pedro Almodóvar's muse, inspiring his 1986 film Law of Desire. She went on to perform in Women on the Verge of a Nervous Breakdown, Tie Me Up! Tie Me Down!, Kika and The Flower of my Secret before her role in Broken Embraces, which played at Cannes in 2009. She will next be seen in Almodóvar's Silencio, due for release in 2016.

French actress Sophie Marceau won a Cesar aged 16 for her role in La Boum 2 and first gained international attention for Mel Gibson's Braveheart (1995) and James Bond movie – The World Is Not Enough (1999). A decade later, Marceau starred in Marina de Van's Don't Look Back, which played at Cannes in 2009. She has also written and directed two feature films: Parlez-moi d'amour (2002) et La Disparue de Deauville (2007).
British actress Sienna Miller first gained recognition in Matthew Vaughn's Layer Cake (2004). More recently, she starred in Foxcatcher by Bennett Miller, which received its world premiere at Cannes last year, and Clint Eastwood's Oscar-nominated American Sniper. Miller recently finished filming High-Rise, directed by Ben Wheatley.
Mexican director Guillermo del Toro was last in Competition in Cannes in 2006 with Pan's Labyrinth. Del Toro, who started out as a make-up artist and special effects specialist, is now based in the US and has made films including Mimic, The Devil's Backbone, Blade II and Hellboy. Hi first feature, Cronos, played in a parallel section at Cannes in 1993.
Canadian filmmaker Xavier Dolan shot his first feature, I Killed My Mother (2009), aged 20, before going on to direct Heartbeats and Laurence Anyways, both of which played in Un Certain Regard at Cannes. His 2013 feature Tom at the Farm was shown at the Venice Film Festival, where he was awarded the FIPRESCI Prize. His latest film Mommy won Jury Prize at last year's Cannes. Dolan is now working on his next feature, The Death and Life of John F. Donovan.
US actor Jake Gyllenhaal was most recently seen in Dan Gilroy's Nightcrawler but has carved out a varied career with roles ranging from Richard Kelly's Donnie Darko to Sam Mendes' Jarhead, Ang Lee's Brokeback Mountain and David Fincher's Zodiac, which played at Cannes in 2007. He recently appeared in two thrillers directed by Denis Villeneuve, Prisoners and Enemy, and will next be seen in boxing drama Southpaw and mountaineering drama Everest.
The jury is rounded out by Mali-born musician and singer Rokia Traoré. Influenced by a nomadic childhood spent between Europe, the Middle East and Mali, her first album Mouneïssa was highly acclaimed when released in 1998. As well as recording more albums, Traoré has written music for films including a segment of 2005 film All the Invisible Children.