Celine Sciamma's Girlhood (Bande de Filles) [pictured] to open; Matthew Warchus' Pride to close.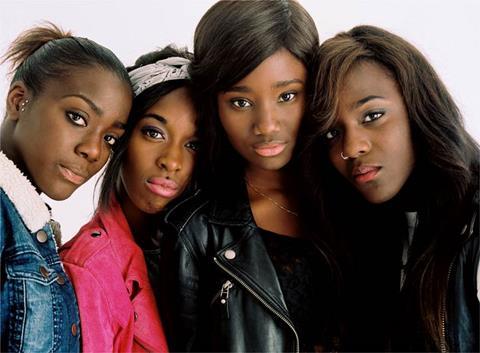 Scroll down for full list
Céline Sciamma's Girlhood (Bande de Filles), revolving around a girl gang in a tough Paris neighbourhood, will open Cannes Directors' Fortnight, running May 15-25.
The Cannes parallel section's artistic director Edouard Waintrop unveiled the non-competitive line-up at a press conference at the Forum des Images in Paris today.
Sciamma was last in Cannes with adolescent locker room drama Water Lilies, which premiered in Un Certain Regard in 2007, but is best known internationally for her 2011 Tomboy, which sold to some 35 territories.
UK's Pride is Closing Film
Matthew Warchus' Pride, starring an ensemble cast featuring Bill Nighy, Imelda Staunton, Dominic West, Paddy Considine and Andrew Scott, will close the selection. The UK comedy revolves around an unexpected alliance in 1984 between a bunch of striking Welsh miners and gay and lesbian activists.
Other UK selections comprise John Boorman's Queen and Country and Daniel Wolfe's Yorkshire-set feature debut, thriller Catch Me Daddy about a girl and her boyfriend on the run from a group of bounty hunters sent by her violent criminal family.
A former Screen International UK Star Of Tomorrow, Wolfe shot the film with cinematographer Robbie Ryan. The pair previously made the YouTube hit Time To Dance together, starring Jake Gyllenhaal as a serial killer.
Other thrillers include Australian filmmaker Zak Hilditch's apocalyptic These Final Hours and Jim Mickle's Cold In July, which premiered at Sundance earlier this year.
Argentine director Diego Lerman also returns to Directors' Fortnight with Refugiado, a road movie about a mother and son who are kicked out their family home.
Canada's Stéphane Lafleur, whose films have screened in Toronto, Berlin and Venice, makes his Cannes debut with the black-and-white film Tu Dors Nicole, about a brother and sister in their 20s left behind in their family home over the summer holidays.
Other US titles include Damien Chazelle's Sundance hit Whiplash about a young drummer trying to make it in the jazz world.
Veteran US documentarian Frederick Wiseman is also expected to hit the Croisette for the screening of National Gallery, following the day-to-day workings the National Gallery of London.
Genre hits
Self-confessed genre junkie, Waintrop has also programmed a restored version of the 1974 US cult classic, The Texas Chain Saw Massacre by Tobe Hooper.
Belgian Fabrice du Welz's Alleluia [pictured], about real-life 1940s serial killers Martha Beck and Raymond Fernandez, who murdered some 20 women before being captured and executed in the 1950s, is also likely to chill the blood of the Directors' Fortnight audience.
French presence
As is in recent editions, France makes a strong showing.
Alongside Sciamma's Girlhood, other French selections include Thomas Cailley's debut feature Fighters (Les Combattants) about a teenage boy who falls for a military-obsessed, young woman who is preparing for a mysterious, future war, and Jean-Charle Hue's Eat Your Bones (Mange Tes Mort), set against the backdrop of France's traveller community.
Bruno Dumont's Li'L Quinquin, northern France-set police thriller born out of a mini-series made for broadcaster Arte, will also screen.
Israeli duo
Israel also puts in a strong showing this year with two films: Ronit and Shlomi Elkabetz' Gett, The Trial Of Viviane Amsallem, a divorce drama set against the backdrop of a rabbinical court, and Asaf Korman's Next To Her, revolving around the close relationship between two sisters, one of them mentally retarded.
Asian selections
There are just two features from Asia: Isao Takahata's Studio Ghibli-produced The Story Of Princess Kaguya, which has already been released in Japan and its due to hit international screens later this year, and Korean Seong-Hun Kim's thriller A Hard Day about a detective who is blackmailed by a witness to a car accident he is trying to cover-up.
Directors' Fortnight
OPENING FILM
Girlhood (Bande De Files), dir: Céline Sciamma
CLOSING FILM
Pride, Matthew Warchus
FEATURES
Alleluia, dir: Fabrice Du Welz
Catch Me Daddy, Daniel Wolfe
Next To Her, dir: Asaf Korman
Cold In July, dir: Jim Mickle
Fighters, dir: Thomas Cailley
Gett - The Trial Of Viviane Amsalem, dir: Ronit & Shlomi Elkabetz
Kaguya-Hime No Monogatari, dir: Isao Takahata
Eat Your Bones, dir: Jean-Charles Hue
A Hard Day, dir: Seong-Hun Kim
National Gallery, dir: Frederick Wiseman
Queen And Country, dir: John Boorman
Refugiado, dir: Diego Lerman
These Final Hours, dir: Zach Hilditch
Tu Dors Nicole, dir: Stéphane Lafleur
Whiplash, dir: Damien Chazelle
SPECIAL SCREENING
Li'l Quinquin, dir: Bruno Dumont
The Texas Chain Saw Massacre, dir: Tobe Hooper (4K restoration)
SHORT FILMS
Fragments, dir: Aga Woszczynska
In August, dir: Jenna Hasse
Cambodia 2099, dir: Davy Chou
The Revolution Hunter, dir: Margarida Rego
8 Bullets, dir: Frank Ternier
It Can Pass Through The Wall, dir: Radu Jude
Torn, dirs: Elmar Imanov & Engin Kundag
Heartless, dirs: Nara Normande & Tião Tiao
Man On The Chair, dir: Dahee Jeong
Jutra, dir: Marie-Josée Saint-Pierre
Guy Moquet, dir: Demis Herenger