The Cannes Marche featured an enhanced documentary offering this year.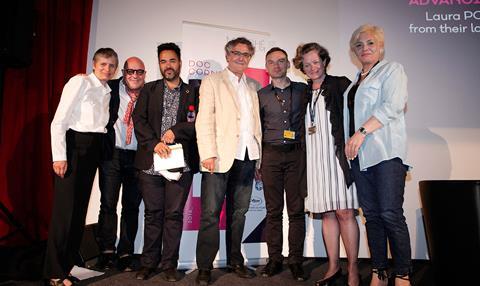 Producer Lawrence Bender remembered that it was a decade ago at Cannes when he launched Davis Guggenheim's An Inconvenient Truth [pictured], the climate change film that starred Al Gore. "Every once in a while you get lucky, lightning strikes, we didn't change the world but we added a few bricks to the process," he said. "Millions of people saw the movie a lot was affected… We have made an enormous amount of progress."
Bender was speaking at the first Doc Day conference at Cannes yesterday, organised by the Marche's Doc Corner and The Ford Foundation's Just Films with Screen International as the media partner. The Day had the theme of Global Awareness For Social Justice: Impact-Making Documentaries.
Bender said to make the most impact on audiences, filmmakers need to remember that it's not just issues that draw people to documentaries, it is stories. He said, "The main thing to remember is that it's a story that needs an emotional through-line. The issue itself is not enough, there has to be an emotional part of it that takes you through the story."
Gianfranco Rosi, director of Berlinale winner Fire At Sea, said every film he works on is not just a simple subject. "I have to find a core. Your essence has to be there, like a line of a poem, it has to fit in a matchbox," he said of a guiding principle he needs before starting any project.
He feels like Fire At Sea, about the migrant crisis as seen in Lampedusa, is his film that could make the most impact on audiences. "I start thinking that I can change the world but if I am able to change one person that's a big success."
Signe Byrge Sorenson of Copenhagen's Final Cut For Real spoke about her experience working on Joshua Oppenheimer's The Act Of Killing and The Look Of Silence, which both looked at the legacy of the 1965-1966 Indonesian genocide. "You can have the hope and the ambition that the films you're making can have an impact, but for a very long time you are just making the films," she said.
But certainly those two films have had an impact, for instance after The Act Of Killing came out, the Indonesian government acknowledged the genocide for the first time. The first film was shown only at closed community screenings in Indonesia, but by the time The Look Of Silence was released, they were able to have open screenings with Jakarta Arts Council. "The conversation was more open and it was safer," she said.
Daniela Elstner, from Fire At Sea's international sales company, Doc & Film, said that sales companies have evolved to need to understand not just connecting a film to local distributors (it has sold to 55 territories) but also to NGOs and activists. "We need to rethink our ways of bringing these films out," she said. "There is so much work we all need to put in there…Something like working with NGOs is part of our daily life, it's our daily work."
She continued, "It opens new ways of selling, which is very interesting…the tricky thing is to find the right balance of what we can add on a daily working basis and how we can still survive. "
'From abstract to real'
Filmmaker and United Nations advisor Gabo Arora spoke about how virtual reality projects like Clouds Of Sidra or Waves Of Grace can open up new methods of documentary storytelling. "It can give you presence with a sense of place," he said.
Russian director Askold Kurov is currently in post-production on The Trial, about the imprisoned Ukrainian director Oleg Sentsov. Kurov said he had been previously phone tapped and followed by "secret service guys" when making his films.
"It's difficult to work in Russia because we have to resist this propaganda, Soviet style, which came back to Russian television. His doc Children 404, about LGBT teenagers in Russia, only had four screenings in Russia but found wider audiences on YouTube.
"I don't believe it's revolutionary changes with the help of one film, but once after a screening, a guy from the audience told his story he said he used to be a homophobe until his best friend came out," Kurov recalled. "And he said, 'I realized it's easy to hate all the gays in the world, but it's difficult to hate a certain person, especially if it's your best friend.' What this film did it made something from abstract to real. When you meet something real you change your mind and your opinion about this. This is what documentary can do, to help people see something real."