British filmmaker Ken Loach wins second Palme d'Or; Asghar Farhadi's The Salesman wins two.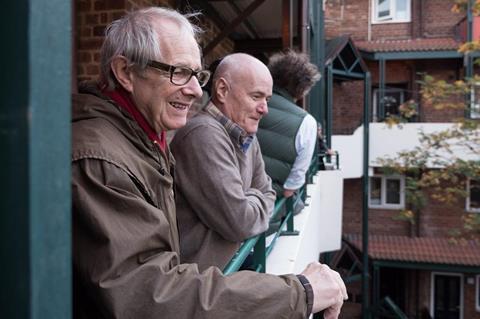 Scroll down for full list of winners
Ken Loach's I, Daniel Blake has won the Palme d'Or at the 69th Cannes Film Festival (May 11-22), marking the second time the British filmmaker has won the top prize after The Wind That Shakes The Barley in 2006.
The 79-year-old filmmaker returned for a record 13th Competition entry with the tale of an injured carpenter and single mother caught in a bureaucracy nightmare within the UK welfare system.
Accepting the Palme d'Or from actor Mel Gibson, Loach used his acceptance speech to spotlight the "dangerous project of austerity".
"We must give a message of hope, we must say another world is possible," he said. "The world we live in is at a dangerous point right now. We are in the grip of a dangerous project of austerity driven by ideas that we call neo-liberalism that have brought us to near catastrophe."
Since Kes screened in Cannes' Critics' Week in 1970, the social-realist UK film-maker has screened 16 films at Cannes and has clinched the Jury Prize three times, most recently in 2012 with The Angels' Share.
Wild Bunch secured a raft of sales for I, Daniel Blake during Cannes' Marche du Film. eOne has UK rights while Sundance Selects will distribute in the US.
While Loach's film secured a solid score on Screen's Jury Grid of critics, the official jury – led by Mad Max director George Miller – went in a different direction, awarding no prizes to Maren Ade's German comedy Toni Erdmann or Jim Jarmusch's Paterson, which both scored very highly with critics.
Grand prix
Xavier Dolan's It's Only The End Of The World (Juste La Fin Du Monde) won the festival's Grand Prix, despite a critical mauling following its press screening.
The Canadian filmmaker, aged just 27, returned with his third Competition entry and his fifth film to premiere on the Croisette (he won the Jury Prize two years ago with Mommy).
The family drama stars Marion Cotillard, Léa Seydoux, Gaspard Ulliel and Vincent Cassel.
'The Salesman' wins two
Asghar Farhadi's Iranian drama The Salesman (Forushande) won two prizes on the night: best screenplay for Farhadi and best actor for Shahab Hosseini.
Iranian film-maker Farhadi returned to Cannes with his follow up to 2013's The Past, for which Bérénice Bejo won the best actress award.
The Salesman is about a couple in a touring production of Arthur Miller's Death Of A Salesman whose relationship turns violent.
Hosseini, who appeared in Farhadi's Golden Bear and Oscar-winning A Separation, stars as one half of the central couple alongside Taraneh Alidoosti, who played the eponymous role in Farhadi's About Elly.
Meanwhile, best actress went to Jaclyn Jose for her lead role in Brilliante Mendoza's Ma' Rosa, in which she plays a poor mother-of-four in Manila who sells drugs on the side to make ends meet.
The film saw Filipino filmmaker Mendoza reunite with Jose, having worked with the veteran actress on Service, which played in Competition at Cannes in 2008.
Joint winners for Best Director
The best director prize was shared between France's Olivier Assayas for Personal Shopper, starring Kristen Stewart, and Romania's Cristian Mungiu with Graduation (Bacalaureat).
The last time the director prize was shared was in 2002, between US filmmaker Paul Thomas Anderson for Punch-Drunk Love and South Korea's Im Kwon-taek for Painted Fire .
For Assayas, it marked his fourth appearance in Competition – with Clouds Of Sils Maria his most recent entry in 2014 – with this ghost story set in Paris's fashion underworld.
The director reteamed with Kristen Stewart, who won a César for her supporting turn in Clouds Of Sils Maria, and this time played the lead.
Graduation marked Romanian director Mungiu's third film to screen in Competition following 4 Months, 3 Weeks & 2 Days in 2007, which won the Palme d'Or, and Beyond The Hills, which scooped him best screenplay and joint best actress for its leads in 2012.
Graduation is a family drama focusing on a small-town doctor and his psychology student daughter, who is assaulted just before an important exam.
Jury Prize
Marking another win for a British filmmaker at this year's Cannes, Andrea Arnold's American Honey won the jury prize.
It was a third jury prize for Arnold – one of three women film-makers in Competition – after Fish Tank (2009) and Red Road (2006).
Texas-born newcomer Sasha Lane stars in the film alongside Shia LaBeouf and Riley Keough in the story of a gang of teenagers in the US who sell magazine subscriptions by day and party hard by night.
A stickler for authenticity, Arnold clocked up 12,000 miles shooting the film on location in the Midwest. A24 has US rights.
Camera d'Or
The Camera d'Or for best debut went to Divines by Houda Benyamina, which played in Directors' Fortnight.
The French-language feature is set on a housing estate in the suburbs of Paris, where 15-year-old Dounia wants to follow in the footsteps of a respected drug dealer. But her life takes a surprising turn when she meets a young dancer.
Benyamina's previous award-winning shorts include The Road To Paradise and My Giant Trash Can.
The Competition jury was presided over by Mad Max director George Miller and comprised Arnaud Desplechin (France); Kirsten Dunst (US); Valeria Golino (Italy); Mads Mikkelsen (Denmark); László Nemes (Hungary); Vanessa Paradis (France); Katayoon Shahabi (Iran); and Donald Sutherland (Canada).
Cannes 69
Palme d'Or
I, Daniel Blake, Ken Loach (UK)
Grand Prix
It's Only The End Of The World (Juste La Fin Du Monde), Xavier Dolan (Canada)
Best Director
Olivier Assayas, Personal Shopper (France)
&
Cristian Mungiu, Graduation (Bacalaureat) (Romania)
Best Screenplay
Asghar Farhadi, The Salesman (Forushande) (Iran)
Jury Prize
American Honey, Andrea Arnold (UK)
Best Actor
Shahab Hosseini, The Salesman (Forushande)
Dir. Asghar Farhadi (Iran)
Best Actress
Jaclyn Jose, Ma' Rosa
Dir. Brilliante Mendoza (Philippines)
Honorary Palme d'or
Camera d'Or
Divines, Houda Benyamina
Best Short Film
Timecode, Juanjo Gimenez (Spain)
Short Film Special Mention
The Girl who Danced with the Devil (A Moça Que Dançou Com O Diabo),João Paulo Miranda Maria (Brazil)
Cannes 69: Competition
American Honey, Andrea Arnold (UK)
Aquarius, Kleber Mendonça Filho (Brazil)
Elle, Paul Verhoeven (Netherlands)
From The Land Of The Moon (Mal De Pierres), Nicole Garcia (France)
Graduation (Bacalaureat), Cristian Mungiu (Romania)
The Handmaiden (Agassi), Park Chan-Wook (S Korea)
I, Daniel Blake, Ken Loach (UK)
It's Only The End Of The World (Juste La Fin Du Monde), Xavier Dolan (Canada)
Julieta, Pedro Almodóvar (Spain)
The Last Face, Sean Penn (US)
Loving, Jeff Nichols (US)
Ma' Rosa, Brillante Mendoza (Philippines)
The Neon Demon, Nicolas Winding Refn (Denmark)
Paterson, Jim Jarmusch (US)
Personal Shopper, Olivier Assayas (France)
The Salesman, Asghar Farhadi (Iran)
Sierra-Nevada (Sieranevada), Cristi Puiu (Romania)
Slack Bay (Ma Loute), Bruno Dumont (France)
Staying Vertical (Rester Vertical), Alain Guiraudie (France)
Toni Erdmann, Maren Ade (Germany)
The Unknown Girl (La Fille Inconnue), Jean-Pierre Dardenne & Luc Dardenne (Belgium)