STX's $50m play, Amazon Studios' charm offensive and other takeaways from this year's market.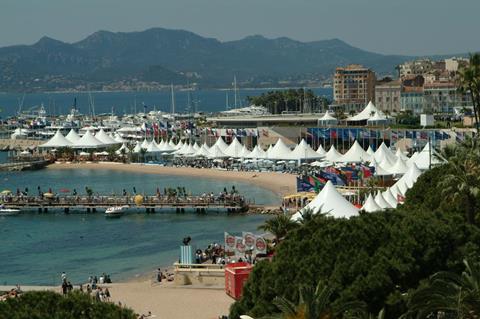 The sunlight at the recent Cannes Film Festival may have confounded early forecasts of interminable rain but the outlook for the film business remains stormy.
While several US companies with points to prove strutted their stuff and international buyers circled must-have titles, the struggle to survive in a dynamic post-2008 landscape remains the most urgent narrative.
That was reflected in a Croisette that seemed quieter than usual, although attendees responded to opportunities when they arose. Market attendance was up year-on-year by several points according to Jerome Paillard, executive director of the Marche du Film, although there was anecdotal evidence of several companies sending leaner teams.
The paucity of foot traffic seemed to indicate that the threat of terror attacks had weighed heavily on the mind of tourists, who by and large stayed away - although to what extent it was not possible to ascertain.
Armed patrols were a regular sight on the streets, snipers took their positions on the roof of the Palais on opening night and the presence in the sparsely populated bay of a vessel decked out in military-style grey livery gave onlookers the chills. Turns out the boat was only a threat if you were a whaler - it belonged to the fleet operated by Paul Watson's Sea Shepherd Conservation Society.
By the end of Cannes, everybody had returned home safely, some happier than others. STX Entertainment, the upstart studio launched by Bob Simonds in 2014, followed its slick CinemaCon presentation in Las Vegas last month with two statement buys.
The aspiring studio stumped up around $9m to secure US and China rights to the Molly's Game package. Motion picture group chairman Adam Fogelson and his cohorts are placing a wager that Aaron Sorkin directorial debut + Jessica Chastain + Idris Elba + Hollywood story = more than the sum of its parts.
STX's bigger bet came a couple of days later at the midway point when it stunned the market by forking out approximately $50m for international rights to Martin Scorsese's upcoming mob film The Irishman.
This was a bold play. The independent space loves it when projects like this become available on the market, although invariably in cases like these the studios love it even more. Asking prices are often too high for all but a handful of independent buyers and the studios step in, fully aware that a minimum guarantee and P&A commitment without the exposure of production costs can result in a win.
That is what happened when Red Granite International, whose Red Granite founders are coincidentally now embroiled in corruption allegations, launched sales at the AFM on Scorsese's The Wolf Of Wall Street, which became a global hit in 2014.
So STX Entertainment had the money and the guts to hit the asking price set by The Irishman financier Gaston Pavlovich. The Mexican head of Fabrica de Cine also financed Scorsese's likely Venice world premiere Silence and is fast replacing Graham King as the celebrated director's go-to man.
STX is no indie player of course, and was able to hold its own against several other bidders such as studios and top-tier sales agents like IM Global. The imminent arrival of David Kosse, former head of Universal Pictures International and Film4, sealed the deal. Now Kosse's nascent international pipeline will need to deliver the goods.
Amazon's plays
All this made for great copy during the market but when all is said and done STX may only move the dial a couple of digits away from zero on the Richter Scale compared to the massive seismic potential of Amazon Studios.
The digital giant arrived in Cannes with five films in selection and was the talk of Cannes. Like Netflix - relatively subdued this year besides a couple of market buys (last year's market keynote speaker Ted Sarandos gave the Cote d'Azur a miss) - Amazon Studios' parent company could snap up STX or indeed any studio tomorrow should it so desire.
Amazon Studios made a statement of its own when it snatched Woody Allen away from his most recent home of choice, Sony Pictures Classics (SPC), and arrived in Cannes with this year's festival opener Café Society. It helped that the company is working with Allen on his upcoming TV series.
It also helped that Amazon Studios has such deep pockets: SPC may not want to say this on the record, but it would never pay anything like the $14m Amazon Studios forked out for North American rights to Café Society.
Having bought Mike Leigh's upcoming Peterloo on the eve of Cannes, Amazon Studios pounced on the Lynne Ramsay package You Were Never Really Here on the Croisette and has set out its store as an arthouse buyer of taste and ambition.
Some of its picks will inevitably not resonate as deeply as others. Nicolas Winding Refn's Competition selection Neon Demon was savaged by critics, while there were glowing reviews for Jim Jarmusch's Paterson. Similarly, Sundance pick-up Manchester By The Sea was arguably the best film in Park City and Amazon Studios is planning a significant awards push.
Netflix has made it clear it is not interested in playing in this sandpit, so the opportunity for Amazon Studios in the arthouse space is huge. Given that it plans to greatly expand its global customer base by the end of the year and operates a hybrid subscription VoD and transactional VoD platform, the company could, if it wants, become the most influential arthouse buyer on the planet with unrivalled spending power.
The company targeted the theatrical sector in its CinemaCon charm offensive and Amazon Original Movies head of production Ted Hope followed that up during a Cannes panel with encouraging remarks for buyers and sales agents aimed squarely at the independent space.
The message has been spreading. "Amazon is willing to work with distributors to support their distribution efforts in any given territory," said The Exchange CEO Brian O'Shea, who reported a strong response to the documentary Gleason, which Amazon and Open Road will release in the US.
Yet for all its enthusiasm, Amazon Studios cannot mask its digital DNA and there are concerns over its commitment to theatrical in the long-term. After all, founder/CEO Jeff Bezos loves to sell his customers reading material, but how many bricks and mortar Amazon bookstores are there?
Searching for success
Except for the top echelon, most sales agents are on the endangered species list if they lack ties to capital and/or original content and merely peddle third-party fare. They make a less compelling case when their buyers in high-piracy territories feel the pressure to release Amazon Studios content day-and-date with the US before it becomes available online in their own countries.
"The current drivers of the independent market are clearly the US domestic buyers, the SVoD platforms, China and, on the international side especially, the studios themselves," said Bill Johnson of Lotus Entertainment, which scored sales on upcoming Keanu Reeves sci-fi Replicas.
Jason Moring, Double Dutch International president, reported a strong response after introducing sales on Super Troopers 2 and the animation Spark.
"It's been a great market for us," said Moring, who noted that South Africa had begun to emerge as an aggressive buyer.
"Mark [Padilla] joined us from Myriad Pictures five weeks ago [as svp of sales and acquisitions] and we're elevating our slate. The buyers have responded and we've hit our targets."
There were plenty of sales success stories in Cannes, from the larger companies. Germany's The Match Factory enjoyed an enthusiastic response to Maren Ade's crowd-pleaser Toni Erdmann, which SPC acquired for North and Latin America (the film also set the highest ever score on Screen's Cannes Jury Grid).
There was notable action too by TrustNordisk on Lars Von trier's The House That Jack Built, Films Distribution on Francois Ozon's upcoming Frantz and Myriad Pictures on The Last Word. Sierra/Affinity stirred up buyers with a monster slate, while Bloom, Lionsgate International, Wild Bunch, IM Global, FilmSharks, The Solution Entertainment Group, Elle Driver, Good Universe, Protagonist, Fortissimo, Mundial, Film Factory and others enjoyed a strong response to new titles.
All these films contained the key ingredients, one of which is cast - increasingly vital at a time when TV is pulling talent to the smaller screen.
Covert Media locked in Daisy Ridley from Star Wars: The Force Awakens alongside Naomi Watts to its upcoming drama Ophelia and buyers flocked. Not everybody will be so lucky.