The writer/director spoke to Screen in Cannes about his Competition contender Loving.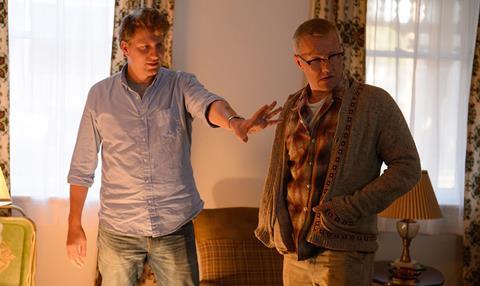 Life for Jeff Nichols has been a consecutive run of writing, filming and hitting the publicity circuit since his debut film Shotgun Stories in 2007. But the 37-year-old film-maker takes it in stride, pleased that he has been able to keep making the films he wants to make.
Nichols's latest feature takes a diversion from his previous thrillers such as Midnight Special and Take Shelter, and instead tackles the real-life story of Virginia natives Richard and Mildred Loving, an inter-racial couple who were sentenced to prison in 1958 for getting married.
How was working on Loving different to working on your other films?
I definitely found approaching a period drama very daunting. I love music, clothes and cars from that period [1950s/60s] but in terms of the social issues of that time, I am by no means an expert. So part of that was trying to figure out how I am the right person to do this film. Looking at the documentary [The Loving Story, HBO] was really the best research. I fell in love with these people, especially Richard Loving. He reminded me of my grandfather.
I felt if I could somehow make a film about these people, it would feel less fraudulent to me. Something I can stand by. It was a balance of finding out everything I could and finding out the essence of what they are about. And that process took me a few months before I could start writing.
You were approached to work on Loving before you went into production for Midnight Special. Can you talk about those timings?
Oddly enough, I was approached about Loving before we went into production for Midnight Special so I got the script written very quickly. I didn't know how it would turn out. I didn't know if I would feel it was good enough. But I really was taken with the script, and we started aiming for a fall 2015 production date.
We were editing Loving when the insane press tour for Midnight Special started. But every time I would check in with the editor [Julie Monroe, who also edited Midnight Special and Mud], she said everything was falling into place. It wasn't like Mud, where we had a lot of challenges. I think we might have changed one small scene here and there, but for the most part, I felt really comfortable with it.
When we showed it to buyers [at February's European Film Market], Focus bought it. And before you know it, we are at the Cannes premiere. It's weird how these things happen. Everything with this film just kind of fell into place.
How did Joel Edgerton and Ruth Negga come on board?
This was a tricky thing. When I wrote Mud, I wrote it for Matthew McConaughey. When he showed up on set, he was speaking those lines and that was very comfortable for me. The problem with this was – I wrote this script for the real people [Richard and Mildred Loving] after watching the documentary.
So when I was in Los Angeles before the pre-production of Midnight Special, the casting director Francine Maisler said, "Let's just see who is out there." Ruth was the first actress we saw – she was the embodiment of Mildred. When she left, Francine and I looked at each other and agreed: the role was her's as soon as she opened her mouth and started to speak.
Joel was already lined up to do Midnight Special. I didn't know him very well. But he very quickly mastered the accent as a Texas state trooper in that film. When it came to recreating the heavy Virginia accent for Richard Loving, I thought it made sense to work with a foreign actor – they would have to go through the mechanics of working with this dialogue anyway – and I was so impressed with what Joel did on Midnight Special, I knew he could handle playing Richard.
You very specifically pre-visualise your films when writing. Did you do that with this film?
I told my team who have worked with me on my other films, "This is all on you. I do not know enough to go on set and know whether this is period or not. I don't have the facility to research all these things, you have to tell me what is right." Usually on other films like Midnight Special I would walk on set and say, "This is not right. The clock is not acceptable", but I didn't have that luxury on this one. Luckily, I have an amazing team who were able to recreate their house from the time period.
The film's focus on the politics of inequality is as timely as ever.
The Loving's story involves all kinds of topics of race and marriage inequality, and the conversation about racism in the US is finally starting to get serious. That made me feel good that just by making this movie people are going to talk about inequality. Had I tried to make a movie that encompasses the civil rights movement, I would feel like a fraud.
Their act of love was not acting – it was genuine, and that is an important part of this inequality conversation. We can't just say our opinion louder. We have to show the humanity around these issues. I think that is what Loving does.