The director talks to Screen about her Un Certain Regard selection, which stars Lily-Rose Depp and French popstar Soko.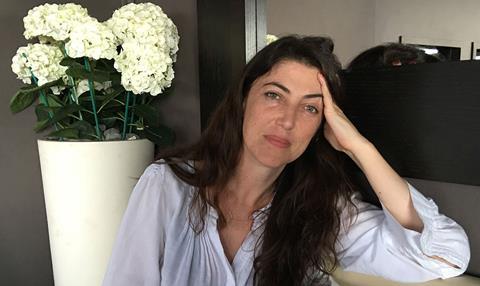 Stéphanie Di Giusto decided to tell the story of 19th-century dancer Loïe Fuller after seeing black-and-white magazine photos of her swirling in veils and floating above the ground. But her ambition didn't come without challenges. While Fuller was a celebrity in her time, she wasn't well-known to audiences today. As for Di Giusto, she had never previously directed a feature.
After six arduous years of development and financing, Di Giusto finally ended up with her "perfect" cast, including musician-turned-actress Soko as Fuller, Johnny Depp and Vanessa Paradis' daughter Lily-Rose Depp as Fuller's arch-rival Isadora Duncan, and Mélanie Thierry and Gaspard Ulliel in supporting roles.
The Dancer is a co-production with Wild Bunch, Orange Studio, Les Films du Fleuve Sirena Film, Voo et Be tv and RTBF (Télévision Belge), in association with Cofinova 12, A Plus Image 6, Palatine Etoile 13 and Canal+ and Ciné+. Wild Bunch is handling international sales.
Both you and the actors have expressed how difficult it was to make this film. Can you talk more about that process?
Right from the start, I knew my film was ambitious, and that I would have to convince producers and actors I could make it. I worked a lot on the characters, and made sure they were deeply researched. I also wanted the script to be as visual as possible, since Fuller was very much about costumes and colour.
Other challenges included my choosing a lead actress that was not as well-known, and deciding on dance as a subject. The budget was high as well [approximately €8m]. Then I met Alain Attal – one of the few producers in France who can take risks in film. His involvement made such a difference.
How did the shoot go?
There was a lot of pressure because even before we had all the money in place, Alain decided we should start production. So we were shooting a film that was under-financed [by €1.5m].
We shot for 45 days, with very little rehearsal time – this was not ideal when working on a film centred around dance. During the shoot, we had few opportunities to do multiple takes, which again was challenging when we had complicated choreographed sequences. One scene in particular was very difficult. Soko had no understudy, there were no visual effects and we used all natural light. Looking back, I think those conditions actually added to the energy of the film.
What was it like working with Soko and Lily-Rose Depp, neither of whom are professional dancers?
They both had this inward identity as artists. For Soko, she is unique; she is very sincere and she does not pretend, which is very important. She worked hard to embody Fuller's body movements, training for six hours a day for one month. While that is still not very much, she utterly transformed herself in that period.
For Lily-Rose's role, I had wanted a 16-year-old actress. That casting list is not very long. I had heard she wanted to be an actress so she did a screentest for both acting and dancing and she was just astounding. When I came back from the States, I said, "She is Isadora Duncan." She is so sure when she acts, and she is incredibly at ease in her body. While Soko had to train for weeks, Lily-Rose slipped right into character. Again, the same story of injustice. It was obvious she wanted to be Isadora.
How did you go about writing the film?
At first, I worked on it as I would a documentary. I read a lot of books about her and met a lot of people, including Jodie Sperling, the dancer who best dances Loïe Fuller today. Then I made her my own in order to express what it was about her that resonated with me. I wanted to get as close as possible to my heroine, to film her body, in an effort to portray the exceptional rush and energy that drove her. I wanted to try a different kind of story that unfolds through movement rather than dialogue. It demanded a lot of paring down and took me three years to do. Every move is written.
Sarah Thibau helped me finalize a first draft, and Thomas Bidegain (Dheepan, Rust And Bone) helped condense the screenplay even further while breathing energy into it.
I ended up taking a few liberties with the truth, such as inventing the character of Louis Dorsay, played by Gaspar Ulliel. I needed a masculine presence in the film, which is otherwise filled with women. Loïe Fuller was gay and it was important for me not to make that the subject of the film. Louis Dorsay is a moving character: he is the film's sacrificed man.
How is it that she was so famous at the time, yet is not so well-known today?
It's difficult in retrospect to grasp how famous she was at the time. Loïe Fuller was one of the world's best-paid dancers. Yet, despite her having rallied both intellectuals and the general public, a lot of scholars don't consider her a dancer because she didn't pass on her knowledge. Knowing full well the inhumane, almost destructive side of her style, she taught the young girls she worked with to express something else. I had the chance to see a film she directed where her dancers are half-naked and incredibly free, which caused a scandal – it was 1900. But it was precisely this freedom that Loïe Fuller wanted to teach them.
In a final ironic twist of fate, she is buried in Père Lachaise, only a hundred meters from Isadora Duncan. Her tomb is overgrown whereas Isadora's is magnificently well kept. The injustice continues.