Other prizes awarded to Dalibor Matanić's The High Sun, Kiyoshi Kurosawa's Journey to the Shore and Corneliu Porumboiu's The Treasure.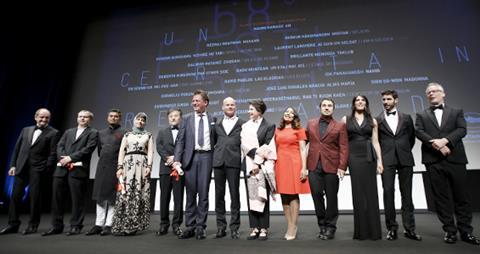 Grimur Hákonarson's Rams has picked up the Un Certain Regard prize at the 68th Cannes Film Festival.
Following 2010's Summerland, Icelandic director Hakonarson's second feature centres on two estranged brothers who have to reunite to save their sheep during an outbreak of disease.
It proved a hot title for New Europe Film Sales, which sold the film around the world during the Cannes Marché, having sold French rights to ARP Selection before the festival.
As winner, Rams will be shown at the end of Cannes' closing ceremony tomorrow (May 24).
Jury Prize
The Jury Prize went to The High Sun (Zvizdan), a Croatian drama from Dalibor Matanic.
The Zagreb-born writer-director is best known for his 2002 feature Fine Dead Girls but has also had two shorts in Cannes: Drought (2003) in Directors' Fortnight and Party in Critics' Week (2009).
The High Sun is about forbidden love across national borders - a tale that starts just before the Balkan war in 1991 and travels through to 2011. Cercamon handles sales.
Best Director
The Best Director Prize was won by Kiyoshi Kurosawa for Journey to the Shore (Kishibe No Tabi).
Best known for horror movies such as The Cure, Kurosawa previously won the Un Certain Regard prize for his 2008 family drama Tokyo Sonata.
He returned to Cannes this year with Journey To The Shore, an adaptation of Kazumi Yumoto's novel about a woman who discovers that her husband, who was presumed dead three years ago, is still alive - and now wants her to meet the people who helped him during his disappearance. MK2 handles sales.
Kurosawa is something of a Cannes veteran. His film Bright Future was in Competition in 2003, while 1999's Charisma screened in Directors' Fortnight and 2001's Pulse in Un Certain Regard.
Kurosawa is currently in post-production on his first French-language film, fantasy tale The Women In The Silver Plate starring Olivier Gourmet and Tahar Rahim (who was on this year's jury).
Talent Prize
The Un Certain Talent Prize went to Corneliu Porumboiu for The Treasure (Comoara).
The comedy-drama is about a young father who is roped into a suburban treasure hunt by a neighbour, and stars Cuzin Toma (Aferim!). Wild Bunch handles sales.
Romanian director Porumboiu's arthouse hit 12:08 East Of Bucharest won the Camera d'Or for best first film at the 2006 festival, where it played in Directors' Fortnight, and he returned in 2009 with Un Certain Regard Police, Adjective.
Promising Future
Joint winners of the Promising Future Prize were Neeraj Ghaywan's Masaan and Ida Panahandeh's Nahid.
It marks the second Cannes win for Masaan, having been awarded the Fipresci prize earlier today.
Ghaywan's debut feature is a France-India co-production about four frustrated lives that intersect in Benares, the holy city on the banks of the Ganges.
Pathé handles international sales and will also release in France on June 24. Ghaywan previously worked as an assistant director for Anurag Kashyap on 2012 Directors' Fortnight selection Gangs Of Wasseypur.
Masaan was produced by Screen Future Leader Manish Mundra through his Drishyam Films outfit. It marks further festival success for newcomer Mundra, whose Dhanak won two awards at the Berlinale in February and Umrika picked up a prize at Sundance in January.
Nahid marks the feature debut for Tehran-born Panahandeh, having previously made shorts and TV movies for Iranian state TV.
The director has shown a commitment to women's rights in her documentaries and this concern is also reflected in Nahid, which centres on a young divorcee in a small northern Iranian city who wants to remarry but risks losing custody of her son if she does so.
Sareh Bayat, who shared the best actress prize at Berlin in 2011 with her female co-stars in Asghar Farhadi's A Separation, stars as Nahid.
The film was sold into Europe and Latin America by Noori Pictures during the Cannes Marche.
Rossellini statement
A total of 19 films played in Un Certain Regard, which opened with a screening of Naomi Kawase's An.
US-Italian actress and film-maker Isabella Rossellini presided over the jury, which comprised the Saudi Arabian director of Wadjda, Haifaa Al-Mansour; Lebanese director-actress Nadine Labaki; Greek film-maker Panos H. Koutras (Xenia); and Tahar Rahim (A Prophet).
Annoucning the winners, Rossellini said in her typically poetic style: "The experience of watching 19 films from 21 countries was memorable. It was like taking a flight over our planet and its inhabitants… Any anthropologist would be envious of us."
She added: "I cannot refrain from expressing also my personal gratitude to the Festival for having chosen my mother Ingrid Bergman for the poster of the 68th edition of this festival.
"Mamma seems to hovered over all of us, filmmakers and film lovers, as a guardian angel."