eOne has licensed a large swathe of the world on its Catholic Church abuse drama including a multi-territory deal with Sony Pictures Worldwide Acquisitions (SPWA).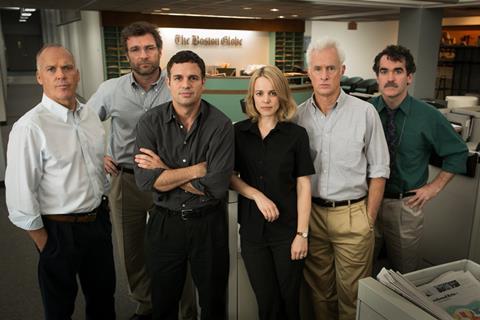 The studio will distribute in Latin America, Scandinavia, Eastern Europe excluding former Yugoslavia, as well as Greece, Turkey, the Middle East, Israel and India.
Elsewhere eOne closed deals in Italy (Bim), Portugal (Lusomundo), former Yugoslavia (Discovery), Baltic States (Estonian Theatrical Distribution), South Africa (Times Media), Hong Kong (Golden Scene), Indonesia (Queen), Singapore (Shaw), South Korea (Activers), Taiwan (Caichang), Thailand (Sahamongkol) and Airlines (EIM).
eOne will directly distribute in the UK, Canada, Spain, Benelux and Australia/New Zealand, while Open Road plans a wide US release.
Thomas McCarthy directs the drama from a screenplay by Josh Singer about the Boston Globe investigative team's reporting into the Catholic Church abuse scandal.
Michael Keaton, Mark Ruffalo, Rachel McAdams, Liev Schreiber, Stanley Tucci and John Slattery star.
Anonymous Content's Steve Golin and Michael Sugar and Rocklin/Faust's Nicole Rocklin and Blye Faust are producers.
Participant Media's Jonathan King and Jeff Skoll serve as executive producers with Michael Bederman.