Stranger By The Lake director competing for the Palme d'Or with Staying Vertical.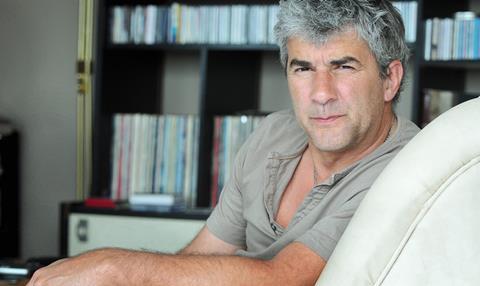 French film-maker Alain Guiraudie makes his Cannes Competition debut with Staying Vertical.
Noted for his LGBT-themed oeuvre, the director won the Un Certain Regard best director prize in 2013 for Stranger By The Lake. He talks to Screen about entering the big leagues.
Screen: Is playing in Competition the ultimate accolade?
Alain Guiraudie: The Competition is the Champions League compared to appearing in the domestic championships. I want to be the Leicester of the competition.
Was it easier to make Staying Vertical after the success of Stranger By The Lake?
Yes, it was much easier. Staying Vertical was financed very quickly. It's the biggest budget that I have worked with, although it wasn't an enormous budget – around 3m euros.
You gave yourself a cameo in Stranger By The Lake. Will you be in Staying Vertical?
No, I won't be in this film. I'm not really an actor. I was just like a ghost in the last film. It was funny to do that. Having asked the actors to be naked the whole time, I thought I should do so as well. Here I'm working with actors I've not worked with before.
Your last film was made in Provence on one location and this one sees action spread across France in Poitou-Charentes, Brittany, Languedoc Roussillon and Midi-Pyrénées.
I wanted to make a film that had a far quicker pace than Stranger By The Lake. This film has a lot more characters, more story, more action and situations. We shot for nine weeks and the locations are very important to the film.
Is Hitchcock still a strong influence on your work?
I believe that this one is absolutely not Hitchcockian. I don't really know what style you would describe it as. I think this time I have done a film that is Guiraudienne.
The plot involves a film-maker on the hunt for wolves? Is this self-reflective in the manner of Fellini?
The character being a film-maker is not really a focus of the film. It's very far from 8 1/2. Wolves are a big problem in France. They have returned in numbers and people are hunting them to protect livestock. But it's also an animal that is very symbolic, an animal that creates fear that is very intelligent.
Many of your films have featured LGBT themes. Is that the case with Staying Vertical?
I think it's very different. Staying Vertical is more queer than my last film. It's not more homosexual, it's more queer. I hope to win the Queer Palme again with this film. [laughs]
What do you see as the difference between queer and homosexual?
Queer is for me something that gathers all the different sexualities, all the points of view on sexuality that are a little bit different.