EXCLUSIVE: Slate also includes Mustang director Deniz Gamze Erguven's LA riots picture Kings, starring Halle Berry, and Westgate terror attack drama.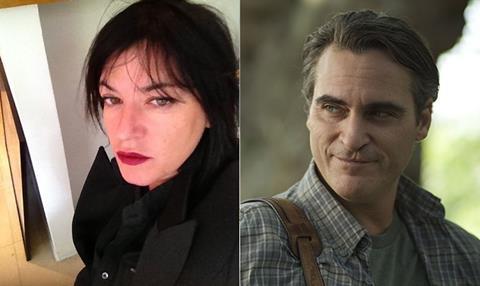 Joaquin Phoenix is set to star in Lynne Ramsay's You Were Never Really Here, a character-driven thriller with heart revolving around a tormented war veteran with a troubled past.
It is one of four high-profile projects being introduced to the market this Cannes by Insiders - the LA-based sales company headed by Wild Bunch co-chief Vincent Maraval — alongside Oscar-nominated Mustang director Deniz Gamze Erguven's Los Angeles-set Kings, starring Halle Berry, contemporary noir Under the Silver Lake and terror attack drama Westgate.
Ramsay project
In Ramsay's You Were Never Really Here, Phoenix will play a damaged war veteran, now a freelance rescuer of women trafficked into the sex trade.
When the extraction of a girl from a Manhattan brothel goes wrong, a storm of violence and corrupt power is unleashed against him, stirring a vengeance that may be his awakening.
Ramsay, whose last feature was the 2011 Golden Globe-nominated Tilda Swinton-starrer We Need to Talk About Kevin, will direct from her own adaptation of a novella by Jonathan Ames, who created the HBO show Bored To Death.
The UK's Film4 and British Film Institute supported development of the project. Pascal Caucheteux, Rosa Attab and James Wilson are producing for Why Not Productions with Page 114 on board as co-producer.
Insiders is selling all territories aside from the UK and France which are handled by Why Not Productions.
Erguven teams with Berry
Erguven's English-language debut Kings is set against the 1992 Los Angeles riots, sparked by the use of excessive police force in the videotaped arrest and beating of taxi driver Rodney King.
Halle Berry will star as a strong, protective mother living in the tough South Central district where the disturbances first kicked-off. The role of a lone, white male neighbour and love interest is currently being cast.
"Like Mustang, it's the story of a family, mixing light-hearted moments with drama in a tough environment. It's a fantastic script. You see the tension rise," said Maraval.
The riots spread across the city over the course of six days, only coming to an end when US armed forces were drafted in. A total of 55 people were killed and another 2,000 were injured.
Erguven first tried to make the feature straight out of France's prestigious Fémis film school, even presenting it at Cannes L'Atélier co-production event in 2011, before coming to terms with the fact it was too ambitious for a first, feature-length production.
Now with an Oscar nomination under her belt for Mustang, about five rebellious sisters battling a suppressive upbringing in a small Turkish village, she is on track to get Kings off the ground.
Charles Gillibert, who produced Mustang and is at Cannes this year with Olivier Assayas's Palme d'Or contender Personal Shopper, is lead producing.
Terror attack drama
Westgate is based on the real-life story of a mother and her five children who were caught up in the terror attack on the Westgate shopping mall in the Kenyan capital of Nairobi in September 2013.
Casting for the mother and roles of the Kenyan security chief and terrorist leaders are due to be announced during Cannes.
At least 67 people died and 175 were wounded in the mass shooting by carried out by gunmen belonging to the Somali militant group al-Shabaab in revenge for Kenyan army activities in the south of Somalia.
"We follow the mother as she attempts to get her children out but there are also flashbacks filling in the motives of the terrorists as well as the lives and backgrounds of all the characters on screen," explains Maraval.
Mexican filmmaker Everardo Gout — best known for his violent depiction of contemporary Mexico Days Of Grace, which screened Out of Competition at Cannes in 2011 — will direct.
CAA is packaging the film with Insiders responsible for financing. Lloyd Levin, whose credits include United 93 and Green Zone, is producing alongside Leopoldo Gout, who produced his brother's Days of Grace.
New David Robert Mitchell project
As previously announced, Insiders will also launch It Follows director David Robert Mitchell's contemporary Los Angeles-set crime thriller, Under The Silver Lake, a modern-day noir set in Los Angeles and starring Andrew Garfield.
Fifty Shades Of Grey producer Michael De Luca is producing, via Michael De Luca Productions, alongside Chris Bender Jake Weiner and Adele Romanski. It is due to shoot late summer.
Mitchell's first and second films, the Detroit-set coming of age tale Myth Of The American Sleepover and fantasy horror It Follows both screened in Cannes Critics' Week in 2010 and 2014 respectively.
Cannes Titles
Launched on the eve of Cannes last year, Insiders is in Official Selection this year with one of the first titles on its slate, Loving by Jeff Nichols, which premieres in Competition.
Maraval created the company to act as a sales service company for third party financiers, focused on independent films with budgets above $15m.
Earlier this year, China's Bliss Media took a stake in Insiders, bolstering the latter's ability to attract and sell high-profile projects.