John Lasseter, animation guru and Chief Creative Officer at both Pixar Animation Studios and Walt Disney Animation Studios, gave a special presentation of the companies' upcoming slate in Cannes today.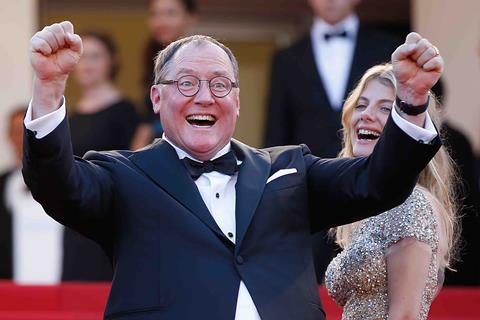 The advancements in animation he showed during the session earned some roars of approval from the assembled press and industry guests.
"These two studios are filmmaker-driven studios," Lasseter said. "Our focus is on telling great stories and we celebrate the heritage of each studio. It's exciting to be constantly breaking new ground."
Pixar slate
Pixar's slate of course includes Pete Docter's Inside Out, which premiered to rave reviews in Cannes earlier this week.
"It's a very special movie for us," Lasseter said. "When you look at all the films Pixar has made this could be the most important, It makes you think about your own thoughts, emotions, memories in a different way." The film opens in France on June 17 (under the title Vice Versa) and will follow in the US on June 19.
Next up will beThe Good Dinosaur. "At Pixar, we ask a lot of 'what ifs': What if toys came to life when you left the room? What if monsters actually did live in your closet? What if a rat dreamt of being a chef? Our next movie asks the biggest 'what if' of all: What if the asteroid that wiped out dinosaurs actually missed earth?"
Peter Sohn directs the story of a young dinosaur (Arlo) who gets separated from his family and meets a human child (Spot) for the first time. "It's a strong coming-of-age story. We are striving for a very unique tone, unlike any animated film every made," Lasseter explained. "It's pretty remarkable even for us."
The footage that Lasseter previewed showcased amazingly realistic animation of the natural environment. "It shows a level of detail that we now have in our technology," he says. "There is a level of believability we're striving to get into this film…it's not your average backdrop for an animated film." Indeed some of the footage at first glance looked like Iive-action footage.
The film will first open on November 14 at the Grand Rex in Paris before launching globally on November 25.
For Summer 2016, Pixar offersFinding Dory, the continuation of the Finding Nemo story. Andrew Stanton directs and Ellen DeGeneres returns to voice Dory. Diane Keaton and Eugene Levy join the voice cast as Dory's parents.
The story picks up about six months after Nemo ended. Dory, who suffers from memory loss, has a memory of her childhood and goes in search of her family. Her journey takes her through a kelp forest along the coastline of northern California, before she enters a Marine Life Institute.
New characters she meets there include a cranky octopus, a confused whale shark, some unhelpful sea lions, crazy loons, and a "ridiculously cute sea otter", Lasseter said. One of the technical advances in this film is with the animation of water. "The surface of water has always been a big challenge and we can do incredible water now," he added. Footage he teased proved that point.
For summer 2017, Pixar is readying Toy Story 4, which Lasseter is directing himself. "We're at the very early stage of the film but it's shaping up nicely. The story's not as much a continuation but a brand new chapter in the Toy Story world."
He added that it was a very personal project for him, and noted that November 2015 will mark Toy Story's 20th anniversary. It was the first computer animated feature film and he said by unofficial count there are now 250 more.
"Toy Story has tracked the history of Pixar, of us as filmmakers and our families too," he said. For instance, his infant son Sam had been recorded as the voice of baby Molly in the original film, and Sam is now about to graduate from college.
He said there were seen more films in development and production at Pixar, "sequels and some amazing original films."
Walt Disney Animation Studios slate
Lasseter noted that is was almost 10 years since he and Ed Catmull had been leading the animation at Disney. "We set out to make it a filmmaker-driven culture like it is at Pixar.
We changed the model from being executive-driven to filmmaker-driven," he said. "It was quite broken when we came in; the morale was really low. We wanted to let them make a movie that would be a really big hit. After Frozen and Big Hero 6, this studio is so confident now, they're on fire."
The Disney legacy is important. "In nine years we have focused our storytelling in a way that is classically Disney but being told for a contemporary audience…I say to every artist and filmmaker, 'Walt Disney's name is going to be on this film. We have to make a film that is worthy of that name.'"
Next up for Disney Animation is Zootopia, directed by Byron Howard and Rich Moore. Zootopia presents a world filled with thousands of animals but no humans. They live in environments such as Tundra Town (every day at 3pm is a blizzard), Sahara Square, The Burrows and Little Rodentia.
"Zootopia seems like a utopia but it isn't perfect," Lasseter said. "The theme is about bias: the animals are quick to put each other in a box, to stereotype."
Ginnifer Goodwin voices the lead character, Judy Hopps, a bunny policewoman. She meets a con artist fox, Nick Wilde (voiced by Jason Bateman). Zootopia will open in early 2016.
John Musker and Ron Clements' Moana, set for release over Christmas 2016, is inspired by the folktales and culture of the South Pacific. Lasseter noted that the Disney team had taken several inspiring research trips to Oceana for the film.
"They are deeply changed by the people they met," Lasseter said. "You want to tell a story that really honours them." In fact, a 'trust' of people from anthropologists to grandmothers to fishermen has consulted on the film." The lead character is a tribal princess who is headstrong and musically talented, and wants to become a great navigator.
"The ocean itself is a character, it's unlike anything you've seen before…the ocean is alive and it has feelings," Lasseter said, before showing a clip finished the day before the presentation, which showed off the new water animation technology that drew the biggest cheers.
Lasseter didn't discuss any plans for the possible Frozen sequel, but he did give the audience a sneak peak at Pixar's latest short, Sanjay's Super Team, a culture clash story from Sanjay Patel. The short will world premiere at Annecy and will be released in cinemas with The Good Dinosaur