EXCLUSIVE: First interview with financier-distributor backing Oasis and Maradona docs.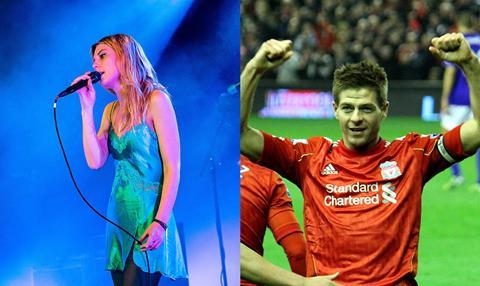 Emerging UK financier-distributor Lorton Entertainment has boarded finance on a Michael Winterbottom music film and a Steven Gerrard [pictured] documentary from the producers of Amy.
Winterbottom (24 Hour Party People, The Trip) is in production on an untitled film about rising UK alt rock band Wolf Alice, which was nominated for British Breakthrough Act at this year's Brit Awards.
Lorton will also distribute the Revolution Films production, which will feature the band members alongside emerging UK actors.
The London-based outfit, which is headed by investment banker Julian Bird and a consortium of private financiers, is also set to back and distribute a documentary about revered UK footballer Steven Gerrard, which will be produced by Amy producer James Gay Rees. A director has yet to be attached.
Bird set up Lorton five years ago but the company has ramped activities in the last two years, making its biggest investment to date in Asif Kapadia's Maradona documentary and also backing Mat Whitecross's anticipated Oasis documentary.
Lorton will release the latter theatrically in Q4 this year with eOne handling home ent rights.
Heading the company's distribution operation will be Shear Entertainment's Dave Shear who is scouting projects in Cannes and will soon join as head of distribution.
Shear will book theatrical slots for films but the company will outsource marketing and home ent distribution.
"Concert docs have done well before but Amy changed what you can do with a music doc at the box office," Shear told Screen about the company's Oasis feature. "We've very excited about its prospects."
The company's first release will be Tribeca drama Adult Life Skills, which will hit screens in June, while the company expects to release three-five films next year. It also has five-six projects in development in-house.
"We're not afraid of low budget films if they're with the right filmmakers and if they are structured in the right way," Bird told Screen.
"Our investments [which include EIS structures] to date have been in projects of a certain scale but we have projects in house which are significantly larger."
One or two staff are due to join the company in coming months.
"We're building this business to be around for the long-term," said Bird. "We have high ambitions. Just because we're from banking it doesn't mean we'll be here one day and gone the next."