Diab talks to Screen about his Un Certain Regard-opener Clash.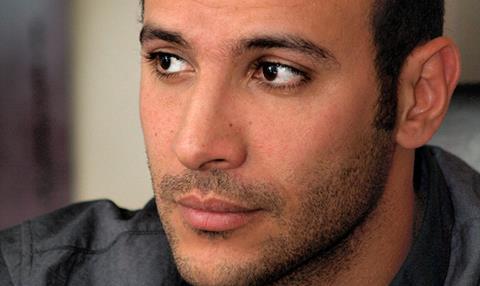 Actors have long been prepared to suffer for their art but Egyptian star Nelly Karim got more pain than she bargained for when she joined the cast of Mohamed Diab's post-revolution drama Clash, which opens Un Certain Regard today (May 12).
Set during violent demonstrations in Cairo at the end of Muslim Brotherhood-backed President Mohamed Morsi's reign in 2013, the film follows 25 protesters, from opposing camps, who find themselves locked up in the same police van over the course of a day as it drives about the city's chaotic streets. The film features several arrest and fight scenes which left Karim and many of the cast members bruised.
"Nelly got a rock in the face. It was a fake rock but it was heavy and really hurt," recounts Diab. "To convince her to get back in the van, I gathered a pile of fake rocks, and told her to pick one and throw it at my face. She did and then got back in the van. Thankfully it didn't hurt – they're mixed with cement and some are harder than others. By the end, we had an album of the bruises every one had. The stuntman said to me, 'You can't be more real than this.'"
Beyond the physical pain, the shoot also took its toll mentally on the cast, who were cooped up in an eight metre-square space for the best part of 26 days.
"We shot the film in a real van using a small Alexa Mini. We never opened up a wall," says Diab. "One of the hardest things was that every single shot has 25 people. Even if only two people are talking, you have 25 people in the frame. That was very, very hard for the actors. Even if an actor only had six lines in the whole film, he had to be there from the first day of the shoot until the end.
"In the last week of the shoot some of the cast started having panic attacks and a few went to therapy," continues the director. "But the hardship paid off and is what makes the film seem so real."
Revolutionary break
Diab's cinema career was taking off when the Egyptian revolution broke out in January 2011, overthrowing dictator President Hosni Mubarak a month later.
He had written the 2007 Egyptian blockbuster thriller The Island (El Gezira), about a tyrannical drugs baron, and his directorial debut 678, about sexual harassment in Egypt and also featuring Karim in the cast, had just started travelling the international festival circuit, winning several prizes.
"Because of 678 I had access to the TV stations and became one of the voices of the revolution," explains Diab. "People came to know me more as an activist than a filmmaker. I felt obligated to stay in the activist scene but at the same time, I kept searching for a film about what was going on which I also thought was a necessity. It was really hard because things were changing so rapidly that every time I got to the treatment stage, things had already moved on."
It was Diab's brother, Khaled, who came up with the idea of making a film in a police van during the July 2013 protests as a means to explore the views and beliefs of the different groups caught up in the Egyptian revolution and its aftermath.
"There are so many divisions in Egypt right now, so many different perspectives," says Diab. "The revolution, which initially united the population, has now divided it like never before. I have friends who have become estranged from friends and family members because of political differences."
"It took us nearly two years to develop the story," continues the director. "We've tried our best to be true to every character. The film is anti-no-one. Every person in the van is a human being. It's complex. I hate black and white. It's got different shades of grey. In doing my research and reading history for this film, one thing that has become clear to me is that the first step in a civil war is dehumanisation of human beings – this film is trying to do the opposite."
Mohamed Hefzy at Cairo-based Film Clinic lead-produced the film with Eric Lagesse's Sampek Production, German Niko Films, Emirati EMC Pictures and Fortress Film Clinic on board as co-producers. Executive producer credits go to Jamal Al Dabbous and Daniel Ziskind. Diab's wife Sarah Goher, who produced 678, takes a creative producer credit.
Sci-fi aspirations
As Clash premieres in official selection in Cannes ahead of a September release in Egypt, where the film looks set to court controversy, Diab is already mulling his next project: a science-fiction film in the vein of Alfonso Cuaron's Children Of Men.
"I'd love to do a science-fiction movie," says Diab. "I like to go into uncharted territories and science fiction has always been my favourite genre. My style is realistic so it wouldn't involve laser guns and flying saucers but rather a 'what if' scenario set in a completely changed future world."