Animation co-produced by Wild Bunch and Studio Ghibli premiered at Cannes in Un Certain Regard.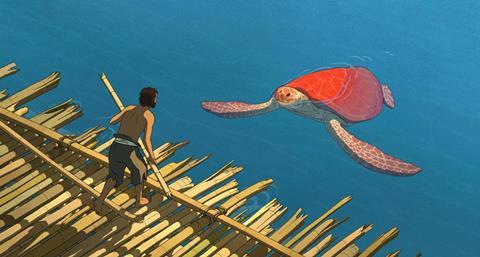 Sony Pictures Classics has acquired all rights in North America and Latin America to Michael Dudok de Wit animation The Red Turtle.
The film premiered yesterday in Un Certain Regard at Cannes Film Festival. As previously announced, SPC has acquired Cannes Competition titles Paul Verhoeven's Elle and Maren Ade's Toni Erdmann.
The Red Turtle is produced by Wild Bunch and Studio Ghibli - the first European co-pro with the Japanese animation studio behind My Neighbour Totoro and Spirited Away - in association with Why Not Productions.
The deal was negotiated by Carole Baraton on behalf of Wild Bunch and Sony Pictures Classics.
The film recounts the milestones in the life of a human being through the story of a man shipwrecked on a tropical island inhabited by turtles, crabs and birds.
"The Red Turtle takes you on an ultimate journey through life," said a statement from SPC, following the acquisition.
"It sweeps you up in fantasy, poetry, and awesome visual beauty. Artistically and commercially it is a major movie for all ages.
"It is a privilege to collaborate with Studio Ghibli, Pascal Cauchetaux, and Wild Bunch in bringing The Red Turtle to American audiences."