Dir/scr: Maren Ade. Germany-Austria. 165 mins.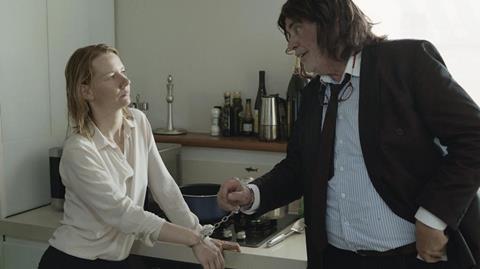 Surprising, awkward, refreshing and, at times, downright hilarious, German director Maren Ade's dazzlingly original follow-up to her 2009 Berlinale Silver Bear winner Everyone Else is that rarest of things: a nearly three-hour-long German-Austrian arthouse comedy-drama that (almost) never drags.
Eliciting laughs and applause – in all the right places – at its Cannes press screening, this tale of a prankster father who uses practical jokes and disguises to rescue his adult daughter from the work-obsessed spiral of seriousness he feels she has sunk into also manages, without an ounce of schmaltz, to address big issues relating, among other themes, to a stressed, permanently online modern world where work is no longer something we leave behind at the office; how families communicate (or fail to); business ethics and sexism in the workplace.
This is a film where you literally have no idea what is going to happen next
Some of the credit for this should go the two actors who carry the film, German leading lady Sandra Hüller and Peter Simonischek, an Austrian veteran who up to now has worked mainly in the theatre. Their deeply believable performances as two deeply believable people ground situations that veer, occasionally, into slapstick or theatre of the absurd, while maintaining an edge of risky, unpredictable, sometimes distinctly uncomfortable drama: this is a film where you literally have no idea what is going to happen next.
Equally authentic is the almost ostentatiously gritty, handheld camerawork, which throws down the gauntlet in the messily framed opening shot of a front door with recycling bins outside. The film builds a case for its unpretty aesthetic, but this, together with the challenging running time, will pose a dilemma for distributors. Despite this, Toni Erdmann will travel extensively: its audience genes are strong enough to overcome both obstacles.
The penchant for pranks of shambling, late middle-aged Winfried (Simonischek) is clear from the get-go, after he greets a bemused courier as first himself, then a disguised alter ego. He's a school music teacher somewhere in provincial Germany, divorced and living alone with his ailing dog. When his stressed, high-powered business consultant daughter Ines (Hüller) comes over for a brief visit, Winfried can hardly get a word in between her urgent, work-related phone calls.
Most parents would leave it at that – and we sense Winfried has, for years – but all of a sudden he's paying Ines a surprise visit in Bucharest, where she works for an international firm of consultants specialising in oil trade restructuring operations. Thus, against the background of a country that itself is shown to be a strange mash-up of conflicting lifestyles, architectural styles and generational aspirations, begins the father's strange game of disturbance and attrition of his clearly unhappy daughter's work obsession through a mixture of pranks and disguises. It's as doggedly pursued by him as it is resented by a tightly-wound, deal-focused Ines who sees her shambolic pa initially as little more than an embarrassment.
It could be argued that the film needs its slow-burn build to release the explosive impact of two brilliant late scenes, one featuring a never-better Hüller delivering a Whitney Houston song in its entirety, the other full frontal nudity and a traditional hairy Bulgarian 'kukeri' monster costume. But that time is also used to explore work relationships and the anomie of international business enclaves that are scarcely touched by the cultures they inhabit, except, perhaps, via a hotel masseuse.
Production company: Komplizen Film
International sales: The Match Factory, info@matchfactory.de
Producers: Janine Jackowski, Jonas Dornbach, Maren Ade, Michel Merkt
Cinematography: Patrick Orth
Editor: Heike Parplies
Production designer: Silke Fischer
Main cast: Sandra Hüller, Peter Simonischek