Dir: Ryan Mullins. Canada. 2014. 78mins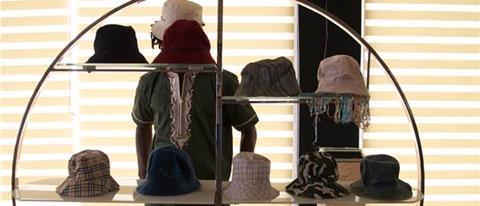 The unorthodox tactics of crusading Ghanaian investigative journalist Anas Aremeyaw Anas – whose mantra is "naming, shaming and jailing" – is impressively and entertainingly brought to light in Ryan Mullin's engaging documentary, which had its world premiere at Amsterdam's IFDA documentary film festival.
Anas, who runs the New Crusading Guide Newspaper in Ghana is dubbed the 'James Bond' of investigative journalism.
Though the title Chameleon doesn't relate to his name (or even nickname) it does reflect his persona. Whenever he is in public he wears a mask or disguise and throughout the film he remains unidentifiable, with footage mainly of his back (and he always wears a hat or hood) or simply blacked out when there is a hint his face may be seen. And it is for good reason – he favours going undercover to expose corruption and criminality and has made more than a few enemies along the way.
Anas, who runs the New Crusading Guide Newspaper in Ghana is dubbed the 'James Bond' of investigative journalism, specialising in stings that provide material for the newspaper, online and accompanying television footage and are aimed at getting a criminal conviction. He works closely with police and makes sure that an arrest is always the culmination of any investigation.
The film follows him and his team as he exposes a fake spiritualist; works with his 'Spice Girls' - young female reporters - to have an illegal abortionist who insists in having sex with his would-be clients arrested, and goes undercover to pull apart a church that is forcing youngsters to work as virtual slaves, while it also shows him talking to schoolchildren (and sporting one of his favourite disguises, a cap with wool hanging over his face) about his life, work and philosophy.
There are also a few dissenting voices – such as from the Ghanaian Journalists Association whose code of ethics forbids getting information via subterfuge – but the charismatic and intelligent Anas Aremeyaw Anas remains a celebrity in his own country. Though Ghana is a stable democracy there is still corruption, and his fight is against those who slip through legal loopholes. In fact, the credits sequence sees him taking steps on stage further, as he graduates from law school.
Production company: EyeSteelFilm
International sales: Dogwoof Global, www.dogwoofglobal.com
Producer: Bob Moore
Executive producers: Mila Aung-Thwin, Daniel Cross, Robin Smith, Neil Tabatznik, Steven Silver
Screenplay/cinematography/editor: Ryan Mullins
Music: Florencia Di Concilio