Dir: Stephen Frears. UK. 2009. 100mins.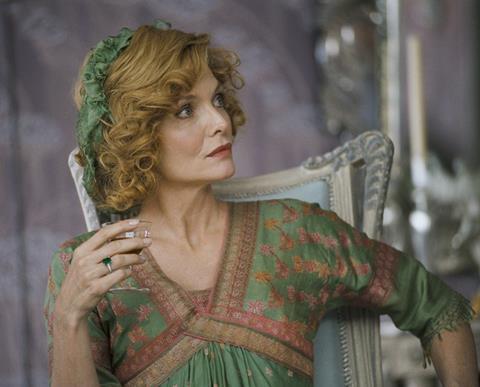 Stephen Frears' sumptuously mounted film of Colette's novel Cheri is for the most part an entertainingdrama boasting a host of deliciously poised performances. If it finally fails to find a satisfying dramatic tempo or tone, it is still bound to attract sizable specialised audiences (roughly the same crowds who warmed to Frears' The Queen, Dangerous Liaisons and Mrs Henderson Presents or other classy period pieces such as Doubt, The Duchess and Atonement.)
Initial critical response at its Berlin competition screening was mixed, suggesting that Cheri might have a harder road to travel in awards terms than The Queen, but there are still several noteworthy performances here, from Michelle Pfeiffer in particular, but also below the line work from cinematographer Darius Khondiji, costume designer Consolata Boyle and composer Alexandre Desplat.
Colette's ground-breakingly frank perspective on women of her era is clearly not easy to adapt to the screen. In Cheri, she portrays the grotesques of Paris society with wit, but nonetheless movingly plunges into the troubled soul of courtesan Lea de Lonval, a character not too far removed from Laclos' Madame de Merteuil so memorably played for Frears by Glenn Close. Frears tiptoes into the dark territory at the end of the first book but it feels like he retreats into campy wit whenever the melancholy of fading youth edges in too morosely.
This dilemma is characterised by a voiceover from the director himself, whose clipped, gruff, terribly English delivery jars with what is otherwise a design-perfect recreation of the louche Belle Epoque of early 20th Century Paris. Although the voiceover occurs less frequently once the film gets going, it does reappear at the end, butting in rudely to what is otherwise a piquant finale and racing through the plot of Colette's second Cheri book in a couple of peremptory sentences.
The biggest marketing asset here is Pfeiffer who won her first Oscar nomination for Dangerous Liaisons (Frears even uses a photograph of the actress from that film in Cheri's colourful prologue). The 50-year-old Pfeiffer shows a good deal of pluck, playing a still-beautiful woman grappling with old age, eroding looks and the indifference of men. While Pfeiffer is still ravishing, she and Frears aren't shy of unflattering close-ups of a wrinkling neck or hollowed cheek and the media will find particular fascination with this topic vis a vis aging actresses when the film goes on release.
Ironing out the non-chronology of the book, Frears and Hampton begin with the blossoming of the affair between retired courtesan Lea and the 19-year-old Fred Peloux aka Cheri (Friend) who is the son of a courtesan frenemy of hers Charlotte Peloux (Bates in fine, playful form). Both women are wealthy from their years eking money from rich men and Cheri has grown up surly, snappy and spoiled. He is, however, so handsome that Lea takes a keen liking to him when they begin sleeping together.
Six years later they are still lovers, Lea maternally dictating the terms of the relationship and tending to his every desire, but when Charlotte announces that Cheri is to be married off to the 18 year-old daughter (Jones) of another courtesan (Hjejle), her ordered world is sent into disarray and she realizes that she is in love with him. While Cheri goes off on his honeymoon to Italy, Lea attempts to overcome her anguish and regain control.
Frears commands a team of exceptional talent here. DP Khondiji captures the drama (and the dresses) in rich, bold colours while Alan Macdonald's design, Boyle's costumes and the hair and makeup work are stunning. Desplat's score is also effective as a mood indicator, especially in abrupt switches between comedy and tragedy. Tasty cameos from Bette Bourne, Harriet Walter, Gaye Brown and Anita Pallenberg (playing a Lea equivalent in 20 years' time) liven up the drama when Lea and Cheri are apart from each other.
Rupert Friend, a young English actor of growing stature, demonstrates considerable presence and charisma as the irresponsible Cheri. Friend, who is also fine as Prince Albert in The Young Victoria, should rise to the next level of stardom after this performance is seen.
But the film belongs to Pfeiffer's Lea as she struggles to hold onto dignity in the face of age and crumbling vanity. The final shots of her weary, exposed face are not too far away from the closing moments of Dangerous Liaisons when Frears stared into the broken face of Glenn Close's Madame de Merteuil as she accepts that she is ruined.
Production companies
BKL Productions
MMC Independent
Pathe Renn Productions
North American distribution
Miramax Films
International sales
Pathe International
(44) 20 7323 5151
Producers
Andras Hamori
Tracey Seaward
Thom Mount
Screen play
Christopher Hampton
Based on the novel by Colette
Cinematography
Darius Khondji
Production designer
Alan Macdonald
Music
Alexandre Desplat
Editor
Lucia Zucchetti
Main cast
Michelle Pfeiffer
Rupert Friend
Kathy Bates
Felicity Jones
Frances Tomelty
Tom Burke
Harriet Walter
Anita Pallenberg
Iben Hjejle
Bette Bourne