Dir/scr: Aida Begic. Bosnia Herzogovina-Germany-France-Turkey. 2012. 90mins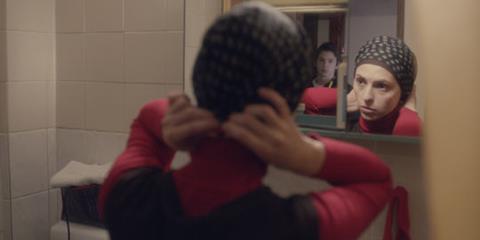 Aida Begic's Children Of Sarajevo (Djeca) is a passionately stark story of the strength of family, driven by an intense sense of honour and compassion as a young woman who has found strength in her religion tries to help her younger brother, who had previously lived in an orphanage.
Marija Pikic is striking as the haunted Rahima.
Prior to her first Cannes screening of the film she said to the audience that it was a shame she was "unable to bring a happier film to Cannes", and while that may be then case, the drive of the film is the inner strength and determination that sees 23 year-old Rahima (an excellent Marija Pikic) doing all she can – and against all the odds – try and keep what remains of her family together.
Rahima and her 14 year-old brother Nedim (Ismir Gagula) live a low-key life in a simple flat in Sarajevo. After crime-prone adolescent years – which are implied but never really developed in the film – Rahima has found solace in Islam, and hopes that her brother will follow her example and find a better life.
She works in the kitchen of a Sarajevo restaurant, retaining a polite and non-confrontational presence, but finds things slowly spiralling out of control when she is called to Nedim's school after he gets into a fight with the son of a prominent government official, and then she finds he is helping courier a gun and documents.
The incident leads her to find out that her brother is dabbling on the edge of criminal activities, but she is determined that he should try and escape that life. Her inner strength begins to come to the fore – initially inexpressive and non-confrontational she is also a woman determined to protect her brother, to the extent that she confronts the official in the knowledge there is likely to be repercussions from the police.
Marija Pikic is striking as the haunted Rahima. The camera is often placed just behind her shoulder and follows her through the bleak war-torn streets of Sarajevo as she strides with a sense of purpose, barely reacting to the happenings around her. The film makes no attempt to reveal what might have happened to her in the past, though it is clear her relationship with Nedim is less than perfect - she works hard and is rarely around - and he even comments at one point that he would rather have stayed at the orphanage.
The story is intercut with news footage from the Bosnian war – not exploitative of overly dramatic, but of scenes of groups of children playing, singing and trying to lead as normal a life as possible. The film ends on New Year's Day with a measured and modest life-affirming moment of brother and sister bonding again.
Production companies: Filmhouse Sarajevo, Rohfilm, Les Films L'Apres-Midi, Kaplan Film
International sales: Pyramide, www.pyramidefilms.com
Producers: Aida Begic, Benny Drechse, Karsyen Stoter, Francois d'Artemare, Semih Kaplanoglu
Cinematography: Erol Zubcevic
Editor: Miralem Zubcevic
Main cast: Marija Pikic, Ismir Gagiula, Nikola Durocko, Stasa Dukic, Velibor Topic