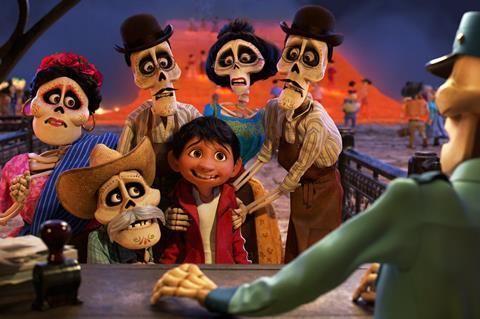 Coco crossed $100m in its second session in North America, while The Disaster Artist and The Shape Of Water scored superb limited debuts, and Amazon Studios orchestrated a solid debut for its first self-distributed title, Wonder Wheel.
Coco added $26.1m for $108.7m through Buena Vista and also dominated the international session on an estimated $69m. The worldwide running total stands at $280m.
Meanwhile James Franco's The Disaster Artist starring Franco as the much maligned filmmaker Tommy Wiseau and Franco's brother Dave Franco as actor Greg Sestero, opened at number 12 through A24 on $1.2m from 19 venues for a $64,254 per-site average.
Fox Searchlight launched The Shape Of Water, Guillermo del Toro's fantasy romance starring Sally Hawkins. The film arrived in 19th place on $166,800 for an $83,400 average.
Elsewhere the top six remained unaffected by a quiet week with no major new releases. Warner Bros' Justice League at number two stands at $197.3m after three weekends, and Lionsgate's Julia Roberts drama Wonder in third stands at $88m after three.
Greta Gerwig's feature directorial debut Lady Bird starring Saoirse Ronan climbed four places to number seven through A24 following a 403 site expansion to 1,194 theatres. It added $4.5m for $17.1m after five sessions.
Fox Searchlight's Three Billboards Outside Ebbing, Missouri climbed two slots to eighth after expanding by 816 sites to 1,430, adding $4.5m for $13.7m after four.
Paramount re-released Titanic in its 20th anniversary year and James Cameron's smash docked in 14th place on $415,000 from 87 sites. Amazon Studios achieved a number 20 debut for Woody Allen's Wonder Wheel starring awards hopeful Kate Winslet. The drama grossed $140,555 from five sites for a $28,111 average.
Hungarian foreign-language Oscar entry 1945 added $33,777 through Menemsha Films for $158,289 after five weeks, while Good Deed Entertainment reported a $211,071 session for animation awards hopeful Loving Vincent, which stands at $5.5m.
Box office for the top 12 generated $98.8m, which was down on last weekend by 46.3% and gained 11% on the comparable session in 2016.
Estimated top 10 North America December 1-3, 2017
Film (Dist) / Est wkd gross / Est total to date
1 (1) Coco (Buena Vista) Walt Disney Studios Motion Pictures International $26.1m $108.7m
2 (2) Justice League (Warner Bros) Warner Bros Pictures International $16.6m $197.3m
3 (3) Wonder (Lionsgate) Lionsgate International $12.5m $88m
4 (4) Thor: Rangarok (Buena Vista) Walt Disney Studios Motion Pictures International $9.7m $291.4m
5 (5) Daddy's Home 2 (Paramount) Paramount Pictures International $7.5m $82.8m
6 (6) Murder On The Orient Express (Fox) Fox International $6.7m $84.8m
7 (11) Lady Bird (A24) Focus Features International $4.54m $17.1m
8 (10) Three Billboards Outside Ebbing, Missouri (Fox Searchlight) Fox International $4.53m $13.7m
9 (7) The Star (Sony) Sony Pictures Releasing International $4m $27.3m
10 (8) A Bad Moms Christmas (STX) STXinternational $3.5m $64.8m