Nikki Christie, Head of Education & Skills at the BFI, writes here about working with Creative Skillset to support placement of outstanding young film talent into UK film companies.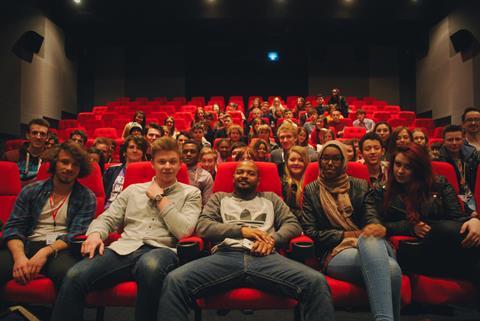 The BFI Film Academy celebrates its third anniversary today (April 9) with a showcase at BFI Southbank of work produced by the 66 young people aged 16-19 who have just completed a two week Craft Skills Residential course held at the world-leading National Film & Television School (NFTS).
During the intensive two-week residential course, the youngsters have been able to get direct specialist experience in directing, producing, production design, editing, cinematography or sound recording, forming teams to create six short films from scratch using the NFTS's film studios and world-class facilities.
At the BFI we believe that while talent is everywhere, opportunity isn't - the BFI Film Academy is designed to address that. Every 16-19 year old across the UK who can show talent and enthusiasm for film is eligible to apply for the BFI Film Academy programme.
In 2014/15 BFI Film Academy courses took place in 44 locations across England, Scotland, Northern Ireland and Wales, supported by the Department for Education (DfE) in England, plus the National Lottery, Creative Scotland and Northern Ireland Screen and partners BAFTA, Creative Skillset and Pinewood Studios.
Specialist residential courses were set up for 'craft' animation, documentary, screenwriting, visual effects and programming.
It's great news and testament to the quality of what the BFI Film Academy is achieving that it has secured further funding from the DfE and will be continuing in 2015/16. The next intake of participants will be able to apply from September 2015.
The future of our thriving film industry relies on finding and supporting new talent. We know that film in the UK is a growth industry, turning over £7.3 billion a year and contributing £3.7 billion to the economy. Over 97,000 people work full-time in the UK film industry and allied sectors and our skilled British actors, directors, producers, writers, cinematographers and crews are in high demand around the world.
But to maintain the health of our industry, we must nurture and grow the audiences and filmmakers of the future.
The BFI Film Academy has proved itself a fantastic finder and incubator of fresh talent. But it's essential for us that the journey doesn't end at graduation – the Academy is part of a wider education strategy, encompassing our partners at Into Film and the BFI's own education departments, and that strategy is focused on providing a ladder of opportunity to enable the brightest new talent to find a route into the industry in doing so, they reinvigorate the business with their ideas, creativity and skills
That's why we are so pleased to be partnering with Creative Skillset to match students who have successfully completed BFI Film Academy residential training programmes with suitable film companies to undertake paid internships.
These internships are targeted towards students who may not be going on to university or higher education, and who come from a wide variety of backgrounds and areas across the UK, to provide an alternative route into the creative industries. We're committed to matching 20-25 interns a year for three years and the BFI is contributing £100,000 a year to help secure opportunities, particularly those from under-represented backgrounds.
So what's in it for you and your company? Well, this is a fantastic opportunity to attract and train new talent. Creative Skillset will match talented and committed young people aged 16-19 who have completed BFI Academy residential courses – all of them energetic, trained, ambitious, proactive, and skilled – for a three-month paid internship. Through the support of Creative Skillset and the BFI, interns will be paid a training allowance equivalent to living wage with the cost to companies just £50 a week.
These young people are doers and makers, looking for real work experience, who are committed to breaking in to their chosen field. Our participating companies can also access further training in mentoring and management to support the programme – so you can develop your existing staff as well as bringing in new talent and ideas.
Applications open in May and we'd like as many companies to get involved as possible, from right across the industry.
For an informal discussion about the programme, or for more information please go to the Creative Skillset website here:http://creativeskillset.org/news_events/news/3248_companies_invited_to_host_bfi_film_academy_trainees
Or contact Michael Brandon, on 020 7713 9800 or email academyinterns@creativeskillset.org
Nikki Christie is Head of Education & Skills at the BFI