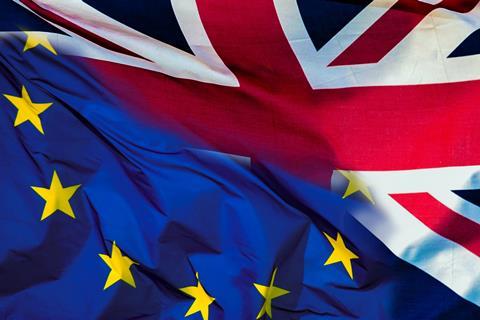 With less than two months to go before the UK is due to depart the European Union on March 29, and the UK's parliament (at time of writing) still in debate on whether to make the country's exit smooth or disruptive, Brexit will be preoccupying minds during Berlin International Film Festival from both the UK and European industry perspective.
However Brexit ends up being actioned, the UK's position as a high-value film market — both import and export — means any and all disruptions will have a strong ripple effect across the continent.
Brexit uncertainty has been — and will continue to be — unsightly to behold, and the growing prospect of no-deal is comforting only to diehard Brexiteers (the UK's Creative Industries Federation has starkly warned a no-deal Brexit would irreparably damage the country's world-leading creative industries).
According to the British Film Institute's excellent Brexit Q&A — which covers everything from freedom of movement to co-production agreements to intellectual copyright — no-deal means the UK's participation in Creative Europe will end on March 29. That will be a problem for companies across the value chain that benefit from Creative Europe's funding, and while the UK government has vowed to replace funding already awarded, it's unclear how long that commitment will last.
That is a concern for the health of European arthouse films in the UK, already a significantly challenging prospect for distributors in recent years, and for European distributors who receive Creative Europe support to release UK films in Europe. The knock-on effects for sales agents seeking minimum guarantees and producers piecing together financing is clear, and impacts that have already been felt could become more challenging. The uncertainty has distributors like Curzon, which was one of four UK distributors to receive a total of €551,200 ($630,000) from Creative Europe in October 2018 to support the release of 10 European films in the UK, modelling a multitude of scenarios and evaluating the potential economic outcomes of different Brexit options.
There is the possibility too that UK prime minister Theresa May's deal passes both EU and parliamentary obstacles and with it comes the two-year 'transitional phase' — during which terms of a new relationship are negotiated and an opportunity for the UK to remain in the current iteration of Creative Europe until the end of 2020. While Creative Europe represents a relatively small piece of the UK industry pie, what it signifies in terms of cultural diversity has been hugely meaningful. It's not only direct beneficiaries who will miss the UK's participation.
Business as usual
Heading into the Berlinale, most UK sales agents and distributors say they are approaching it in a 'business as usual' fashion, like the majority of their international counterparts. As Screen International's Americas editor Jeremy Kay observes in his piece gauging the mood of buyers and sellers on the eve of the European Film Market (EFM), theatrical independents are fighting to assert their relevance in the face of powerful streaming platforms, and struggling to compete for pricey content, but their success remains integral and it behoves and benefits the entire independent film ecosystem to ensure a steady supply of quality projects for them.
Easier said than done, of course, but cautious optimism on that front is the order of the day heading into EFM, off the back of a pluckier than expected American Film Market.
The growth and evolution of EFM is one of the many things of which outgoing Berlinale artistic director Dieter Kosslick is proudest, as he tells Screen contributing editor Geoffrey Macnab. Under the aegis of Beki Probst and now Matthijs Wouter Knol, it has transformed during Kosslick's reign into one of the world's three leading markets, while the festival itself has expanded to an astonishing 300,000 tickets sold, making it the biggest public festival in the world. This year's Berlinale will be bittersweet for Kosslick before he hands over the reigns to Carlo Chatrian and Mariette Rissenbeek, but his legacy will be strong and we'll surely be seeing that distinctive red scarf around the festival and beyond for many years to come.


Screen International's editor, based in London.