Dieter Kosslick is preparing his last Berlinale as artistic director after 18 years at the helm. He tells Screen about his many highlights, working with Netflix and going off to the mountains to fast.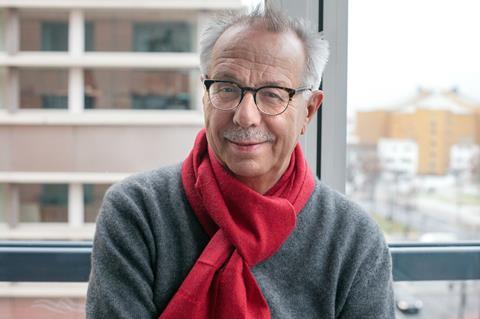 It has not quite been business as usual for Dieter Kosslick as he puts together his final Berlinale — his 18th since taking over from Moritz de Hadeln in May 2001. "It was a bit strange to organise," he admits. "As I was travelling around the world, people kept asking me, 'Why are you leaving?' I am not sad but I am a little… nostalgic."
He can recall many personal highlights. One is the freezing February day in 2010 at the Berlinale Special open-air screening of a newly restored version of Fritz Lang's Metropolis at the Brandenburg Gate with thousands in attendance, including Leonardo DiCaprio. He enjoyed the times The Rolling Stones and Patti Smith came to Berlin, as well as the evening Fatih Akin won the Golden Bear for Head-On in 2004. That moment heralded the arrival of a major new German talent and Kosslick is pleased he has programmed more than 50 German features in Competition over the past two decades.
He takes pleasure in the number of Golden Bear-winning auteurs who have continued to return to the festival. Zhang Yimou, winner in 1988 with Red Sorghum, has a new film, One Second, in Competition this year. Akin is again competing with The Golden Glove while Wang Quan'an, who won with Tuya's Marriage in 2007, is also back with Öndög.
Kosslick is also thrilled by how the European Film Market (EFM) has evolved during his two decades at the helm, with initiatives such as the Co-Production Market and the World Cinema Fund helping to transform the EFM into one of the world's three big markets.
Berlin transformed
The Berlinale has grown significantly under Kosslick's stewardship. This year, it has a budget of $29.7m (€26m). More than 300,000 tickets were sold for the 2018 edition, making it the biggest public film festival in the world (before the Berlinale moved to Potsdamer Platz in 2000, ticket sales were under 200,000).
During Kosslick's Berlinale tenure, the film industry has undergone a startling transformation. In particular, he has witnessed the rise of the streaming giants. While Cannes is still at loggerheads with Netflix, and Italian exhibitors are unhappy that Venice also showcased Netflix titles, Berlin, under Kosslick, has stayed out of the crossfire, and festival regular Isabel Coixet is back in Competition with the Netflix-backed drama Elisa & Marcela.
"We are in a situation where the parameters of the film and audiovisual businesses are changing," says Kosslick. He not only points to the streamers but to the potential disruption that could be caused by Disney's takeover of Fox.
The Berlinale has set a simple rule: there has to be "proof" the titles selected will have a theatrical release before going on a streaming platform. In the case of Elisa & Marcela, for example, the film will be given a theatrical release in Spain before it becomes available on Netflix.
"We are fighting for cinema but we cannot exclude Netflix as somebody who picks up cinema films," says Kosslick pragmatically. "But if it has no distribution and it streams first, we will not have it in Competition."
Although local audiences flock to the Berlinale, admissions at German cinemas in 2018 fell from 2017 by nearly 16% to 95.8 million. Kosslick's response is measured when asked if he believes there is a crisis in German cinema. "I am now 35 years in the cinema business," the Berlinale boss says, pointing out there have always been fluctuations in admissions and that all it takes to reverse a short-term decline is one or two successes. Local title That Boy Needs Fresh Air (Der Junge Muss An Die Frische Luft) has already made $18m at the box office during its first three weeks in cinemas this January.
Kosslick also highlights the "electric atmosphere" of the Berlinale that attracts audiences to pay for films they might not see at other times of the year. The stars and directors are in attendance and there is an extra buzz, which the viewers cherish.
Accessible festival
Kosslick has always tried to welcome the public as a point of principle throughout his tenure. "We have really broken the barrier," he suggests. "People are not afraid to go over the red carpet into the cinema. I am not a director who hinders you from going into screening rooms. This is what people love here."
On the day Screen International spoke to Kosslick, he was taking a break from writing the preface to In Kino Veritas, a collection of film criticism from the 1920s by Berlin-based poet and writer Ernst Blass, set to be published during the festival.
What struck Kosslick about Blass's reviews of films including Garden Of Eden and The Cabinet Of Dr Caligari is their "relaxed", poetic style. "It is also less personal," he says. "Today, it is very personal."
Kosslick is not a fan of what he sees as the "loud" and "nasty" effect that digital journalism and "mass communication on the internet" have had on the way films are now received. "It all goes much faster [now]," Kosslick muses. "It has to be much more sensational. You have to have a headline that draws you in to read the message."
When Adina Pintilie's esoteric arthouse title Touch Me Not won the Golden Bear last year, it provoked a debate about whether festivals such as Berlin were in danger of losing touch with popular taste. Unsurprisingly, Kosslick resists this. "First of all, the festival director is not the head of the jury," he says. "You can say, 'OK, you're the head of the festival, you programmed this film.' We've had a lot of box-office hits in our programme. We are also a festival for avant garde. We show a broad spectrum of films with very different artistic handwritings. We are not a commercial cinema. We are here to celebrate art and, by the way, [Touch Me Not] was sold in more than 50 countries."
Kosslick says he is confident leaving the Berlinale in the capable hands of incoming artistic director Carlo Chatrian and executive director Mariette Rissenbeek. "I don't know what my successors are setting up. [But] I am not afraid of what the future of the Berlinale will be," he says. "It is a very strong festival. [But] it's good to have new ideas coming in."
As for his own plans after this year's edition, Kosslick will not be drawn. "First of all I will go into the mountains to fast, so that I have a clear head," he reveals. "Then, I am writing, curating, will go into my garden, bake and [paint] watercolours," Kosslick says. "I quote Angela Merkel, who was asked what she will do when she stops being chancellor of Germany. She said, 'I guess something will come into my mind.'"