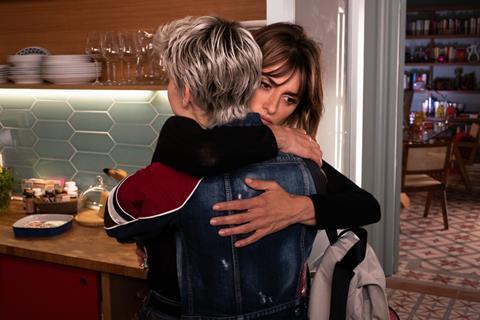 As the film business barrels towards awards nominations yet again, it's time to start — or continue — watching the large number of entries to the best international feature category of the Academy Awards. Fast, because there are 93 of them. They are of such wildly varying quality it's disorientating and practically eye-boiling to watch them side by side. Yet this category has become as much a staple of the season as Miracle On 34th Street, a dusty corner of the awards race invigorated by the new broom of the streaming services and the multiple victories of Parasite in 2020.
It's clear, given the large number of entries, that this section has become an annual Olympics of cinema: every country flies a flag, and some have better chances than others — more skill, more experience, better films. Over the years, France, Italy, Japan, the Nordic territories and, more recently, South Korea, have proved adept here. But there are countries who simply don't know their way around the game.
The stakes have risen, with streaming services out for prestige and producing original-language content in almost all major territories. There's nothing like an Academy Award to burnish the brand when you're approaching directors and producers for content: far from falling into the depths of an algorithm, the statuette shows you know the path to international recognition. That can be through a streaming service, a savvy US distributor and a seasoned awards consultant, but one thing is a given: it's going to be expensive to get your film in front of voters.
There isn't a universal criteria for national bodies when it comes to submitting a film to the Academy and, in fact, the process can be murky and varies widely from country to country. Ampas has made huge steps towards bringing what is essentially an old-fashioned concept — 'foreign-language' film — into today's global marketplace, regularising the voting procedures among other things. Yet, it still doesn't feel quite right.
Two key issues remain. One is that some selection bodies will be tempted to choose a film that has a strong chance of success — either a powerful US distributor that can marshal voters, or a top award at a major festival — to the detriment of titles that do not have the same kind of backing.
The second is more important. Bahman Ghobadi, the exiled Iranian director of Turtles Can Fly, talked about it recently when he urged a category for exiled filmmakers, who have nobody to speak for them.
What about filmmakers working in their own language who have had to flee — literally the title of Denmark's national submission, about an Afghan refugee. Even if it were in a position to nominate, Afghanistan would never send such a film to Ampas. It is critical of the country. Not to mention Syrian, Russian, Iranian, Chinese filmmakers subject to overt censorship and repressive regimes. In this way, it's the UK that ends up submitting the Turkey-set (albeit UK-made) documentary Dying To Divorce in — apart from anything else — a year when Welsh and Scottish-language films were viable options.
Stumbling blocks
This isn't always a question for repressive regimes either: Pedro Almodovar's Parallel Mothers, in part about controversial domestic issues, is missing from the list this year. It's all beginning to look a bit clumsy for an industry so supposedly global and sophisticated.
It is now almost two years since the filmed entertainment business found itself shifting dramatically, and everything is still moving into a new, post-pandemic shape. What's come across loud and clear is that the industry cares greatly and vocally about access, opportunity and consideration — being conscious that decisions have their consequences whether they were intended or not (in the way of Black Lives Matter and #MeToo). The international category is better than it was, but it's still not quite right. Maybe it's time to call time's up on the status quo here too.

Screen International's executive editor for reviews and new talent