The under-representation of ethnic minorities in the creative sector was highlighted at the Creative Access showcase hosted by Channel 4.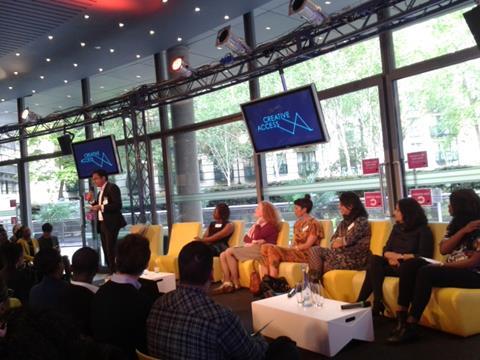 More than 150 enthusiastic would-be interns braved the Tube strike to attend the event on Wednesday (April 30) organised by Michael Foster's Creative Access, a charity which facilitates access to the creative industries for black, Asian and minority ethnic (BAME) candidates.
The event saw speakers from companies including ITV, the Financial Times and Tricycle Theatre talking about their own experiences and backgrounds, and giving advice on how to stand out. Tips included: "be annoyingly persistent," "don't whinge and moan", and "be prepared for failure". This was followed by networking with 25+ industry professionals from companies including ITN News, The Guardian and CNN.
Channel 4 deputy chief creative officer and head of factual features Ralph Lee introduced the evening by saying that while London is a 40+% non-white city, only 3-4% of jobs in its creative sector are held by non-white people. He added: "The media is an industry where who you are matters – and that's why diversity matters."
ITV director of digital channels and acquisitions Angela Jain pointed out that, from the industry's perspective, encouraging diversity also makes economic sense: "We need to understand the audience so that we can sell our programmes to them."
The film industry remains painfully homogenous. Recent Creative Skillset stats show that BAME representation in film production and distribution has halved from 8.55% in 2009 to 4.3% in 2012.
While Creative Access has sent interns to film production companies MARV, Blink and Lupus, the film sector still only makes up 2% of their placements – compared to 34% in TV production. No film companies spoke at Wednesday's event (but had been at previous sessions).
Nigel Warner of Creative Access said: "Overall we have placed a few interns with film companies, but we are looking to place many more. As with many parts of the creative sector, people from black and Asian backgrounds remain woefully under-represented in the film industry."
This is not because film doesn't appeal. Warner added: "There have been fewer opportunities available, but there is plenty of interest among potential interns. We hope that many more film companies will take part."
Dominic Grant, 24, secured a Creative Access internship at MARV in 2012, where he worked on Kick Ass. He is now Key Production Assistant/Post Production Assistant on Matthew Vaughn's new adaptation of the Mark Millar comic book series 'The Secret Service'.
He said: "It has been an amazing couple of years for me; I have learnt a tremendous amount, made some fantastic contacts and friends and feel as though I really am a part of the industry now. Along the way I have still been trying to squeeze time in for personal projects where possible and hope to start my own production company in the near future."
Founded in 2012, Creative Access offers 6-12 month paid internships in the creative industries, including TV, music, journalism and publishing. So far they have placed 150 interns, 80% of whom have gone on to secure full-time jobs.
To find out more about the internship programme visit www.creativeaccess.org.uk or follow them on Twitter @_creativeaccess