Horror filmmaker joined by Cannibal Holocaust director at Italian premiere of The Green Inferno.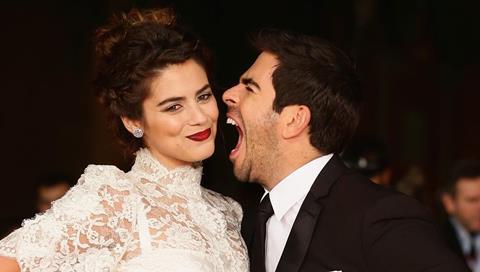 Hostel director Eli Roth nearly bit off more than he could chew last night at the Italian premiere of his cannibal gorefest, The Green Inferno.
Screened out of competition at the Rome Film Festival, the late night premiere was not only attended by the director and the film's star Lorenza Izzo but also Ruggero Deodato, the horror maestro behind Cannibal Holocaust (1980) [see a picture of the two directors here].
Also in the audience was Antonella Fulci, the daughter of the "Godfather of Gore" Lucio Fulci, and the late horror director's regular collaborator, Fabio Frizzi, who wrote the music for features such as Zombie Flesh Eaters.
"It's such an honour to be in Rome for the Italian premiere as everyone knows my love for Italian cinema from Dario Argento to Lucio Fulci," said Roth, introducing the movie.
Speaking to his guests and the audience, the director added: "I made this movie for all of you with love. I hope you find it appropriately disgusting, fun and crazy. Thank you for this amazing honour. It really is one of the greatest nights of my life."
The film, about a group of activist students who get captured by a tribe of cannibals in the Peruvian jungle, drew gasps, laughs and jumps as the horror unfolded.
Two moments in particular drew outbursts of applause to a visibly happy Roth, who watched the film alongside Izzo and Deodato. The first involved the adding of a "special ingredient" to one of the captives while the other involved the leader of the group enjoying a moment of "relief" not long after.
In the catalogue of the Rome Film Festival, which runs Nov 8-17, Roth's statement about the film said: "I wrote a story about students who want to take the shortcut and solve the world's problems by streaming them and publicly embarrassing anyone they see as doing something wrong, and then, as I was finishing the script, Kony 2012 happened which, for me, represented the boiling point.
"Everyone in the world tweeting about something they learned from a YouTube video, and almost shaming other people into re-tweeting about it, as if you're uncaring about Ugandan child soldiers if you don't.
"I saw it all more as a public demonstration for people wanting to appear like good people, and a month later the leader of their cause was masturbating on the streets of San Diego.
"It did absolutely nothing. Yes, it raised awareness, but just re-tweeting links to YouTube videos isn't actually going to stop warlords."
The Green Inferno, which debuted at the Toronto International Film Festival in September, is distributed in Italy by Koch Media. International sales are handled by Exclusive Media.