The High Fidelity author spoke about An Education, Reese Witherspoon and upcoming period drama Brooklyn during a wide-ranging discussion of his career.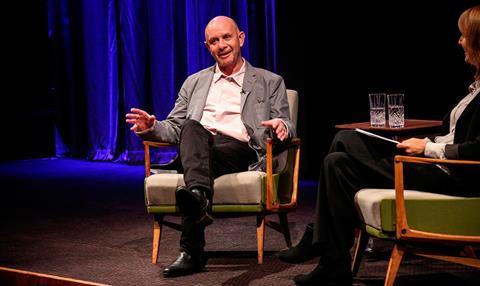 Nick Hornby, writer of High Fidelity and About A Boy, entertained an audience in London on Wednesday night (Sept 23) ahead of the release of period drama Brooklyn, his adaptation of Colm Toibin's novel that has been directed by John Crowley.
Speaking at at BAFTA's London headquarters as part of the BAFTA & BFI Screenwriters' Lecture Series, Hornby recalled how an artist friend of his once described an average working day and exclaimed with a laugh: "Genius wanker".
The venerated screenwriter and author said: "I couldn't believe that someone else understood the way that I spend my days.
"The genius part lasts for about five minutes, and the latter tends to last a lot longer in the course of the day."
Considering Hornby is now entering his 25th year of being a professional writer – which he said he intends to celebrate with "a flapjack, an espresso and a look at the Guardian crossword" – those daily five minutes of genius have amounted to a considerable body of quality work.
High Fidelity
After publishing his first novel High Fidelity in 1995 – which was quickly optioned and then adapted into a feature film starring John Cusack in 2000 – Hornby has penned seven novels to date, most recently Funny Girl in 2014, which he is now adapting into a feature film.
He has also written three screenplays, each one an adaptation of another author's source material. His screenwriting debut was 2009's An Education, which he adapted from an autobiographical article by Lynn Barber that he had read in Granta magazine.
"It seemed to have the potential to say lots of things about our country at the time, but also a particular mindset," said Hornby.
"I said to Amanda [Posey, a film producer and at the time his partner, now his wife], 'I think this would be a great film,' and she went off and optioned the piece."
Initially, Posey considered finding a writer to work on the screenplay, but Hornby wanted the job for himself.
"I felt that I knew the character and I knew the film I wanted to see, so I asked if I could have a stab, and she very graciously, for nought pounds nought pence, allowed me to have a go and we went on from there."
Like High Fidelity, the project was not a short turnaround. "It took a long time, not just because it was hard to fund, but also it took a long time for me to find the shape of it," recalled the writer, whose novels usually take him one to two years to complete.
"Both of those films; they took five years too, really. And they disappeared for long batches of time; I didn't know what had happened to them," he recalled.
Oscar recognition
After being nominated for an Oscar for his An Education screenplay, some might have expected doors to have started opening, but Hornby found the experience underwhelming.
"I've found that if you're an Oscar-nominated screenwriter the only way that people ever know about it is if you introduce a conversation by saying, "I'm an Oscar-nominated screenwriter"," he said, which drew a laugh from the BAFTA audience.
"I mean, you lot remembered from the introduction that I was an Oscar-nominated screenwriter, so I think the information probably lasts for about an hour. But you'd be surprised how few people noticed at the time.
"I think that the only way to get work is by doing good work really, and for me the real point of something being good is that it buys me another gig."
However, opportunity did present itself when he attended an Oscar party and met US actress Reese Witherspoon.
Nipple Jesus
"She knew my work," he recalled of Witherspoon.
"In fact she wanted to, I was very taken aback, but she wanted to talk to me about a short story that I'd written for a charity anthology.
"If you'd asked me what she was going to say when she began her sentence, "You wrote…" I absolutely would not have been able to guess the next words, which were "Nipple Jesus" in fact."
While that potential project never got off the ground, the pair did end up collaborating on Wild.
Hornby read Cheryl Strayed's memoir, on which the film is based, and immediately asked his agent to find out if the rights had been taken. Indeed they had.
"Reese Witherspoon's bought it," replied the agent, and Hornby immediately emailed her to see if he could have the job.
Initially screenwriting role had already been taken, but the original writer dropped out and Hornby got his chance.
The film was made, with Witherspoon in the lead role, and was eventually nominated for two acting Oscars.
Brooklyn
His third film project is Brooklyn, which premiered at Sundance earlier this year and screened to rave reviews at Toronto earlier this month.
An adaptation of Colm Tóibín's novel of the same name, Brooklyn stars Saoirse Ronan as a young Irish girl in the 1950s who leaves her homeland and travels to New York in search of an exciting life.
Quizzed on whether the adaptation was initially challenging, Hornby simply responded: "I wish there was a more complicated way of saying no.
"I could see how to do it. I liked it that there was no dialogue because that gave me kind of creative free reign."
"What I think I did do was turn the volume up, and I hope it's not too loud and vulgar, but that's what it felt like doing, was writing the dialogue and just turning everything up a little bit, the humour and the heartbreak, because you have less time to do it and less time to work the atmosphere that Colm creates in the book."
Brooklyn is set for UK release through Lionsgate on Nov 6.